Anger over Iran's influence and the public demand for reforms in Iraq have encouraged a protest movement to start a targeted campaign, boycotting Iranian goods and promoting national production.
Iraqi demand for locally manufactured goods is on the rise in response to campaigns that were launched on social media several weeks ago.
The campaigns encourage people to purchase locally produced goods and aim at reviving and developing national industries.
The most prominent of such campaigns uses the slogan "Let them rot" and has seen protestors boycotting everything Iranian -- from fruit to sugary drinks.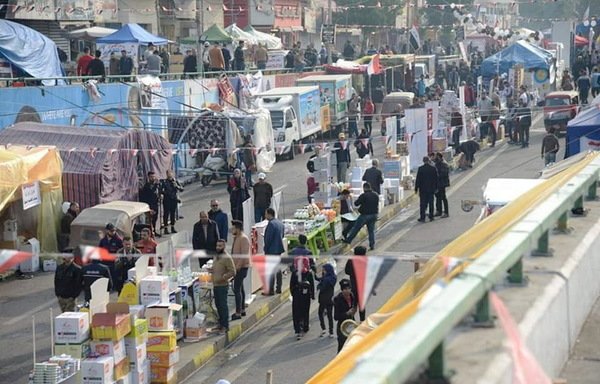 Abu Ahmed, a resident of Baghdad who asked that his real name not be revealed, said he is "supportive of boycotting imported Iranian goods".
Purchasing these products means "providing economic support for the Iranian regime, which allows it to continue meddling in our affairs", he told Diyaruna.
"Our country should not serve as the lung of that regime, which it uses to breathe and stay alive so it can carry on with its negative influence using revenues it reaps at the expense of our economy," he added.
'Made in Iraq'
Other residents were also opposed to opening the Iraqi market to imported goods without strict regulations that protect national industry.
"We import almost everything, whether from Iran or other countries, and most of what we import is available in Iraq at the same price and is high quality," Baghdad resident Zahraa Mohsin told Diyaruna.
Images and videos that promote national products and industries are being widely shared on social media.
Meanwhile, impromptu open air markets at protest squares have stands offering "Made in Iraq" goods to consumers.
Resident Faris Adnan said he hopes to see "Made in Iraq" on all items he buys.
The economy cannot be strong without a developed and diverse industry, he told Diyaruna.
Faleh al-Zubaidi, who teaches economics at al-Mustansiriyah University's College of Management, said that Iraq's non-oil industry stood at 16% of annual state revenues some 20 years ago.
This percentage "is acceptable compared to where we are today, where we exclusively rely on oil revenues and our other exports are negligible", he said.
Iraq has a wealth of untapped natural and human resources which are key to building an advanced industrial base, he said. "However, we have to start addressing corruption and bureaucracy with an iron will."
The industrial sector plays a key role in "absorbing unemployment among young people", he said, which has reached 21%, according to official reports.
This is in addition to "maintaining foreign currency reserves and reviving other sectors".
Reviving the industrial sector
Iraq's imports are on the rise, with $8 billion coming from Iran alone during the first half of the year, and are likely to reach $12 billion by the end of the year, economist Saleh al-Hammash said.
The campaigns to support the national industry have prompted Iraqi consumers to boycott imported goods, especially those coming from Iran and Turkey, he said.
Iranian and Turkish goods have been piling up in warehouses, according to importers who confirmed that they are having a hard time selling them, al-Hammash said.
But while these campaigns have had an apparent impact, it is still "limited", he said, as national production does not cover the demand, especially on non-food items.
Al-Hammash underscored the importance of rehabilitating the approximately 60,000 shuttered factories and workshops in Iraq.
"There are 73 companies owned by the Ministry of Industry that comprise 6,000 factories," he said.
Twelve of those companies are not profitable, according to an official report that was released last year, he added.
"No new factories have recently been opened, but in light of the protests, efforts are underway to re-open closed factories," he said.
"If all industrial projects are back in service, then there will be no need for importing anything," al-Hammash said.