The "Islamic State of Iraq and Syria" (ISIS) confirmed the death of its leader Abu Bakr al-Baghdadi in a Thursday (October 31st) statement and named his replacement as "Abu Ibrahim al-Hashemi al-Qurashi".
The statement, delivered via an audio recording released by ISIS propaganda agency Amaq, was read out by the group's new spokesman, "Abu Hamza al-Qurashi".
It announced al-Baghdadi's successor as "Abu Ibrahim al-Hashemi al-Qurashi", and confirmed the death of former ISIS spokesman Abu Hassan al-Muhajir.
Belonging to the Quraysh tribe -- the same tribe as the Prophet Mohammad's -- is seen as a prerequisite for becoming the leader of ISIS.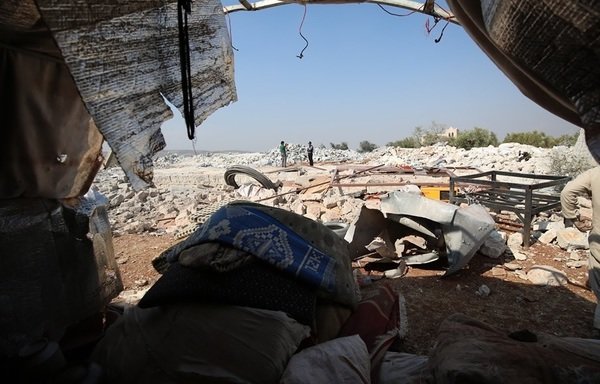 Al-Baghdadi, who had led ISIS since 2014 and was the world's most wanted man, blew himself up during a Sunday night US special forces raid on his hideout in the village of Barisha in Syria's Idlib province.
According to the seven-minute statement, the group's legislative and consultative body convened after the 48-year-old Iraqi-born ISIS chief's death and agreed on a replacement.
Little is known about al-Hashemi, whose name was seldom mentioned as a possible successor to al-Baghdadi in recent years, even as speculation intensified in recent weeks.
"We do not know much about him except that he is the leading judge of ISIS and he heads the 'sharia' committee," said Hisham al-Hashemi, an Iraqi expert on ISIS.
Analysts say it is likely to be a nom de guerre, and also suggest al-Baghdadi's death is likely to cause the group to splinter, despite the naming of a successor.
'Desperate attempt to regain the initiative'
After ISIS lost the last sliver of territory it controlled in March in the remote eastern Syrian village of al-Baghouz, the group went underground and has reverted to guerrilla tactics.
ISIS has a very horizontal structure, analysts say, and the impact of a decapitation strike may be more symbolic than operational.
Terror group specialist Yahya Mohammed Ali told Diyaruna that ISIS's naming of a successor is merely "a desperate attempt to regain the initiative after the series of punishing losses it has suffered, culminating with the death of its leader".
The announcement is the first ISIS made since al-Baghdadi's death, he noted.
Al-Baghdadi's successor is an unknown figure in the media, Ali said, adding that it is unlikely he is one of the names that have sparked recent speculation.
Names previously floated include Abu Saleh al-Jazrawi, Abu Othman al-Tunisi and Abdullah Qardash, nicknamed "the Professor".