The Ministry of Culture has been working steadily to ensure artefacts and national cultural property, particularly items looted by the "Islamic State of Iraq and Syria" (ISIS) between 2014 and 2017, are returned to Iraq.
Over the last few years, the Iraqi government has succeeded in retrieving thousands of stolen artefacts, including items ISIS pilfered from the Mosul Museum, various archaeological sites and historic buildings.
The ministry is committed to the extraordinary and continuous process of reclaiming stolen Iraqi artefacts, said Minister of Culture Abdul Amir al-Hamdani.
"We have focused our work on one main issue, which is to closely monitor auctions and exhibitions of artefacts that are held around the world, including sales and auctions held online, in order to find our artefacts," he told Diyaruna.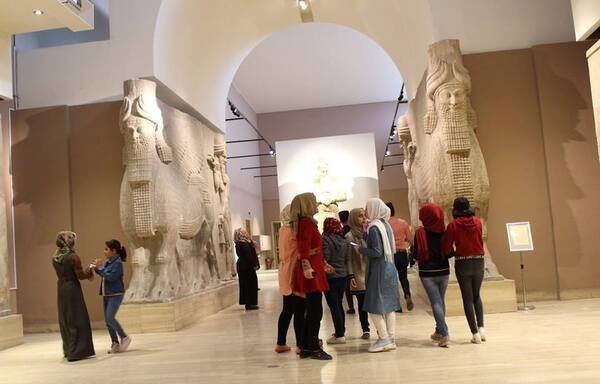 Iraqi artefacts are "usually easy for experts to distinguish", he said, though the recovery process requires complex legal interventions to ascertain the ownership of pieces that are being circulated in the global marketplace.
This can be difficult, he said, as some stolen artefacts do not bear the museum's stamp "since they were extracted from the archaeological sites by thieves".
Thousands of artefacts recovered
Efforts to reclaim Iraqi antiquities are being co-ordinated among the Iraqi Ministry of Foreign Affairs, the diplomatic missions of various countries, country representatives and UNESCO, al-Hamdani said.
"Our efforts have resulted in the recovery of thousands of stolen and smuggled artefacts over varying periods of time," he said. "We have started to recover dozens of items on a monthly basis, and most countries are now co-operating with us in this regard."
The Ministry of Culture on July 29th received delivery of 173 stolen artefacts from the Ministry of Foreign Affairs -- mostly ancient pottery and seals that had been recovered from the Netherlands, Britain, Canada, Japan and Sweden.
On the same day, Minister of Foreign Affairs Mohammed Ali al-Hakeem announced there were arrangements in place for the Ministry of Culture to receive 5,300 more artefacts that are being recovered from several countries.
He praised "the efforts of several countries that have helped Iraq to collect these pieces from museums, universities and even private individuals that had previously purchased them".
The artefacts are being returned in accordance with the provisions of UN Security Council resolutions 1483 and 2199, he said.
In March of this year, Iraq received 1,300 artefacts from Jordan, al-Hamdani said, adding that negotiations are currently taking place with Turkey to retrieve a batch of Iraqi artefacts from Hatay Archaeology Museum in Antakya.
Bringing back archaeological missions
In addition to reclaiming stolen artefacts, the Ministry of Culture has been working to attract international archeological missions to Iraq, to engage in reconstruction efforts at sites that sustained damage and excavate new areas.
"Our teams have been working side by side with a number of missions since 2011 at a host of archaeological sites" in Basra, Dhi Qar and Wassit provinces as well as in the Kurdish region, al-Hamdani said.
"Following the liberation of Mosul, missions have resumed their work there, and we now have four missions active inside the city, working with national teams," he said.
These archaeological missions are working to "restore artefacts and conduct surveys, assessments and documentation" as well as continuing to make discoveries through new excavations, he said.
The ministry is determined to rebuild the Mosul Museum, damaged at the hands of ISIS, in addition to the Anbar and Diyala museums, al-Hamdani said.
There also are plans to eventually open two museums in Maysan and Kirkuk provinces, he said.
Returning Iraq's cultural property
UN Security Council resolutions 1483 and 2199 "prompted the international community to take a firmer stance towards helping Iraq retrieve its looted property", said former director of Iraqi Museums Abbas Abid Mandeel.
"Countries of the world are now helping us to trace and recover artefacts stolen by ISIS after 2014," he told Diyaruna, noting that the search also includes artefacts stolen from Iraq before the emergence of ISIS.
"In the past couple of years, [Iraqi] museums, with international support, have recovered a large number of smuggled artefacts that were secretly being circulated and auctioned around the world or hidden by ISIS," Mandeel said.
He noted that efforts to retrieve artefacts are difficult and time consuming, especially as it is difficult to estimate the precise number of artefacts that have been stolen, as many are unregistered or not officially documented.
"However, what has been achieved is remarkable, and encourages continued recovery efforts, as well as more active collaboration to bring back as many national artefacts as possible," he said.