During its period of reign over Mosul, the "Islamic State of Iraq and Syria" (ISIS) told the public that ancient artefacts and statues were essentially "idols" and they had demolished them out of "religious duty".
It has now come to light that ISIS elements had in fact stolen and sold the archeological assets, which provided them with a steady stream of income. This further reveals the group's hypocrisy and the false image they were trying to project, experts told Diyaruna.
ISIS also conducted systematic excavations in search of archaeological valuables in historical sites that fell under its control.
More than 1,700 archaeological and religious sites in Mosul fell under the control of the group between 2014 and 2017, most of which were looted and vandalised.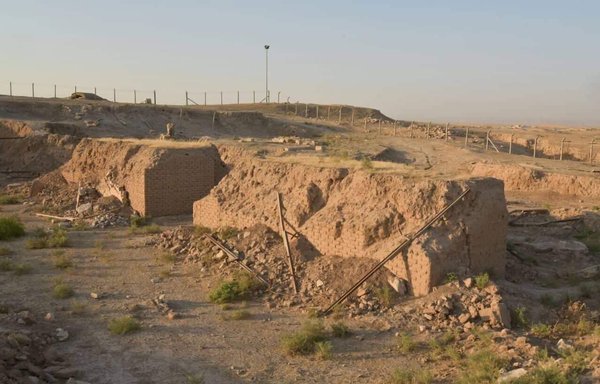 Zaid Ghazi Saadallah, director of Mosul Museum, told Diyaruna that following the liberation of Mosul from ISIS, extensive survey and rescue operations were conducted by the museum to evaluate looted or damaged artefacts.
The survey has showed that the group relied on stolen artefacts as a key source of revenue and posited that acts of destroying the museum's massive artefacts shown in the group's propaganda films "were nothing but a cover-up of the theft", he told Diyaruna.
Systematic theft
Data analysis performed on shattered pieces in the museum, as well as a review of documents listing the museum's contents before the ISIS invasion, "revealed the disappearance of rare and priceless pieces", Saadallah said.
This means they were systematically stolen. ISIS would loot the artefacts from archaeological sites it seized and would detonate or bulldoze the sites to hide any sign of theft, he said.
According to Saadallah, this is what took place at the site of Tell Nabi Yunus (Prophet Jonah) shrine and Tell Quwainjaq, where the palace of the Assyrian king Sennacherib is located, and the historic city of Nimrud.
However, there is no precise number of the artefacts that were looted and smuggled abroad, as some of them were not officially registered in museum records.
Antiquities with museum seals can be easily reclaimed and retrieved anywhere in the world, but the problem lies with those that were randomly extracted and smuggled out -- which are difficult to identify, Saadallah said.
"The Ministry of Culture and the Public Antiquities and Heritage Authority are working with a few other Iraqi and non-Iraqi government agencies, as well as the Interpol, to track Iraq's archaeological property," he said.
A report by the Iraqi Supreme Judicial Council published on October 4th, citing UNESCO, said that ISIS had made up to $36 million from smuggling Mosul artefacts and selling them on the global market through intermediaries.
Massive destruction
Ahmed Qassim, an archaeology expert at the University of Mosul, said ISIS operations to steal and smuggle antiquities took place within an organised framework.
"When we returned to Mosul after liberation, we carried out inspections of destroyed archaeological sites which showed that excavation work had been done, some of which was conducted methodically and scientifically," he told Diyaruna.
The finding suggests that ISIS elements might have hired specialists, he said. This is evident in cases such as the complex network of tunnels carefully dug under the Tell Nabi Yunus shrine, where the palace of the Assyrian king Essarhaddon is located and no prior excavations had taken place.
Qassim said that ISIS not only looted the relics, but caused massive destruction and erasure of human heritage that included many archaeological sites and buildings.
Musab Muhammad Jassim, a representative of the Ninawa Antiquities and Heritage Inspectorate, told Diyaruna the investigation of stolen antiquities during ISIS's control of Mosul has two aspects.
The first is done overseas, where there is co-ordinated effort between Iraq and the international community and joint agreements to pursue and recover the smuggled artefacts, some of which are sold at global auctions, he said.
The second aspect involves ongoing efforts by Iraqi security forces to examine the artefacts uncovered in ISIS hideouts over the past years, which the group's remnants were planning to smuggle, he said.
The National Security Agency and the Ninawa Operations Command have recovered nearly 100 artefacts since the end of the liberation battles, said Jassim.