Iraqi experts monitoring the "Islamic State of Iraq and Syria" (ISIS) propaganda machine tell Diyaruna the group's media presence has been steadily shrinking.
This is largely due to focused security and intelligence operations to curb the group's technical capabilities, they said, including a July 10th operation in which Iraqi intelligence services seized 142 computer servers belonging to ISIS.
According to intelligence services, ISIS had used these servers to broadcast its acts of terrorism and intimidate the civilian population, and for "field media coverage" of its actions in Mosul, Tal Afar and other parts of Ninawa province.
The Iraqi Ministry of Defence said an army unit had confiscated a cache of broadcasting equipment in Tal Afar's al-Qalaa neighbourhood, noting that it had been used by ISIS's Amaq radio station.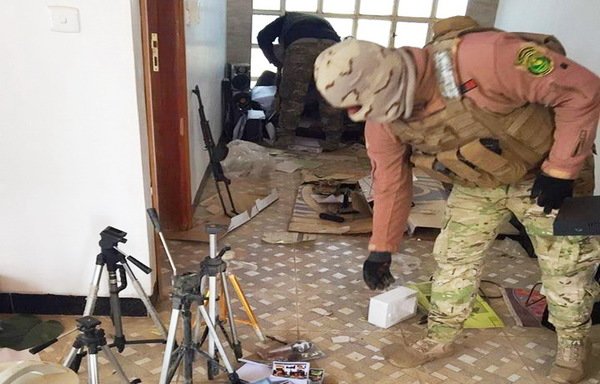 ISIS's media operation is dwindling because the group itself has collapsed, strategy expert Ahmed al-Sharifi told Diyaruna.
It no longer controls any territory, and has lost access to most of its former sources of revenue, he said.
Targeted attacks mounted by Iraqi forces against ISIS communication centres and warehouses where telecommunications equipment and digital transmitters were stored also have contributed to the decline of its media operation, he said.
"Stripping ISIS of these systems and technical capabilities represents a major goal of the security forces at this stage," al-Sharifi said.
The decline in the group's ability to broadcast its messages is linked to a decline in the ability of its rhetoric to influence Iraqi public opinion, either through intimidation or indoctrination, he said.
"Civilians, especially those who lived through the period when ISIS was in control, now realise how the group's ideology is devoid of religious and humanitarian values," he added.
'Media machine is fading away'
ISIS's broadcasting operation has substantially declined in recent years, said Kazem al-Miqdadi who teaches mass communication at al-Farabi University College.
Heightened security pressure has deprived the group of most of its media platforms, technology, videographers, sound technicians and propagandists in addition to other personnel, he told Diyaruna.
There also has been a targeted effort to put barriers in place to stop ISIS elements and supporters from propagating the group's ideology and spreading its messages online and "particularly on social media", he said.
"The ISIS media machine is fading away," al-Miqdadi said, noting that the group has "lost credibility and no one fears them anymore".
"Evidence of this is that many civilians in liberated areas are speaking to the media without fear about the tragedies they experienced during ISIS rule," he said.
Need for anti-terrorism messaging
Abdul Salam al-Samer, who teaches advertising at Baghdad University's College of Media, stressed the importance of targeting the ISIS media machine and the technology it uses to spread disinformation and conduct psychological warfare.
"We need to continue destroying its technological capabilities and its cells that are responsible for creating the media content," he said. "We have to disable its digital access and dismantle its social media platforms."
But undermining those capabilities is not the only thing that has to happen, he said, noting the need for active anti-terrorism messaging in the mainstream media.
"Long gone are the days when the public was sympathetic to the messages released by ISIS after its lies and deceit were exposed," he said. "But this means we need to work on further entrenching people's resentment of terrorists and always reminding them of their despicable deeds and crimes."
"We need to target their deviant ideology through social awareness programmes and documentaries and TV programmes that can counter-influence their thinking," al-Samer said.