Sporadic sectarian attacks carried out by members of pro-Iran militias operating in Iraq's Diyala province have threatened the peaceful nature of these communities and incited retaliatory violence, provincial officials said.
Media reports have shown a rising number of assassinations and random targeting of civilians, as well as missile attacks on some neighbourhoods.
On June 1st, three farmers from the same family from the village of Abu Khanazeer in the province's Abu Saida district were killed during an attack that is believed to have been perpetrated by militiamen.
This triggered fear among the local population and led several villagers to flee their homes.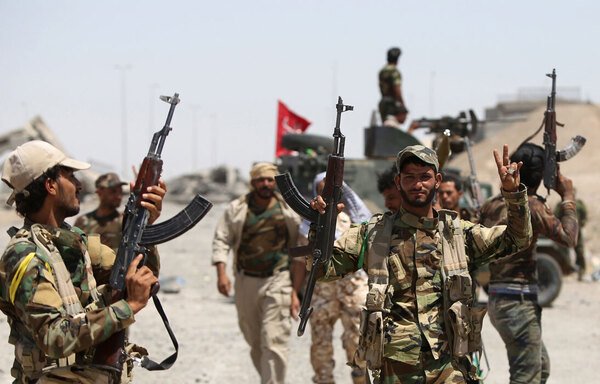 On June 14th, militiamen attacked the neighbourhood of Bahraz with mortars.
And on June 22nd, a group of militiamen indiscriminately opened fire on civilians from a vehicle in al-Awqaf neighbourhood of al-Tahreer in Baquba, wounding three people.
'Defying state authority'
"Some rogue armed factions are defying the authority of the state and using their power to terrorise civilians," Diyala provincial council member Sajid al-Anbaki told Diyaruna.
"The government has to take decisive action to limit the activities of outlaws and [keep] weapons and security within the hands of the official forces so these criminals cannot commit their crimes that rip apart the social fabric," he said.
"We want the relevant authorities to hunt down anyone that dares to threaten the safety of civilians and destabilises the province, regardless of their affiliation," al-Anbaki said.
In a June 8th statement, Iraqi MP Raad al-Dahlaki, who represents Diyala in parliament, said the militias are "undermining safety and security and bringing back episodes of murder, displacement and expulsion".
These militias are trying "to impose their authority and prevent any local officials from retaking control from them", he said, urging the government to take responsibility and intervene to end the state of chaos in Diyala.
'Still isolated events'
"The actions carried out by rogue militiamen are still isolated events," Diyala provincial council member Omar al-Karawi told Diyaruna.
Diyala residents are now aware of the true nature of these militias "and their desire to sow sedition", he said, and will not tolerate a return to the days of sectarian violence.
In the case of the Abu Khanazeer incident, he said, "the local leaders intervened, held meetings and conducted parliamentary and government visits".
The situation in Diyala is "under control" thanks to the security forces, he said. "However, in some villages with weak security -- such as al-Waqf, al-Mukhaisa and al-Muqdadiyah where sleeper cells still exist -- the activities of armed [militias] can be seen."
The threat of the "Islamic State of Iraq and Syria" (ISIS) is not completely over in the province, as there still are terrorist elements hiding in orchards and rugged terrain, said Sheikh Haitham al-Hawm, head of al-Nida tribe.
"The rogue armed gangs are taking advantage of this, as well as the shortage of security units in some areas due to their engagement in security campaigns, to commit criminal acts," he told Diyaruna.
Al-Hawm said the security situation in Diyala is not yet concerning as the latest armed attacks "are isolated events rather than large scale operations".
"Our forces have a strong influence and immediately intervene to stop any operation that breaches security or poses a threat to local communities and their cohesiveness," he said.
"Civilians trust the security forces and co-operate with them in order to maintain stability in their province," al-Hawm added.