The election of a new Ninawa governor has roiled the northern Iraqi province, with residents and monitors pointing to his alleged ties to Iran-backed militias and allegations of corruption that have accompanied the election process.
Iraqi MP Mansour Mareid al-Jubouri, who represents Ninawa in parliament, was on May 13th elected governor by the Ninawa provincial council with 28 out of a total of 39 parliamentary votes.
Sirwan Mohammed of the Kurdistan Democratic Party (KDP) was elected first deputy to al-Jubouri, and voting for the second deputy was postponed.
The results were renounced by some members of parliament and met with strong objections from the people of Ninawa, who demanded that the government intervene, and keep the crisis unit in charge of the province's affairs.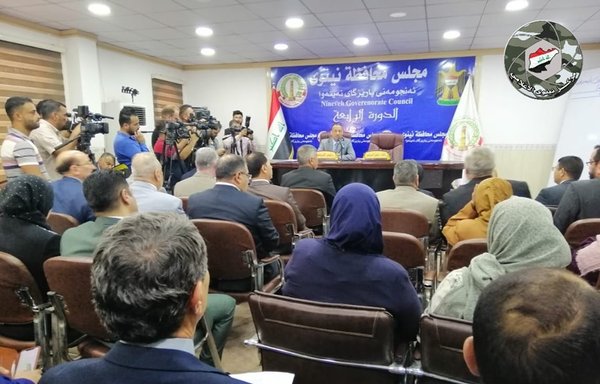 A crisis unit was formed in March, after former Ninawa governor Nawfal al-Akoub was sacked over the ferry incident in Mosul in which more than 100 people lost their lives. The crisis unit was dissolved May 28th.
The investigation into this incident has shed light on the corruption that has been festering in areas of Iraq where Iran-backed militias wield influence.
Questions about election
Mosul resident Abu Wissam, who asked that his real name not be used, told Diyaruna the election of al-Jubouri was "illegal" and called for the dissolution of the council, accusing its members of corruption.
The council's mandate "expired two years ago, following the end of its constitutional right to govern, which is four years", he explained.
He called for the governor's election to be nullified, describing it as being "against the will of the people", and for the governance of the province to be handed over to the crisis unit again, until fair elections can be held.
The new governor is an active member of the Ataa movement, led by Popular Mobilisation Forces leader Faleh al-Fayyad, which includes militias loyal to Iran.
Ninawa residents and monitors told Diyaruna they fear his election will lead to more power for militias over the resources of their province, and the hindrance of investigations into corruption charges.
Strategy analyst and Ninawa native Muayed al-Juhayshi told Diyaruna there are "suspicions that some of the members of the Ninawa provincial council who voted for the new governor have received large bribes".
"There are charges against more than one political figure confirming millions of dollars were paid to these members to vote for the militia-backed al-Jubouri as governor," he said.
"The people of Ninawa are very angry with the council members, who have thrown to the wind their demands for holding corrupt officials accountable and preventing the agents of these militias from committing further acts of corruption," he said.
"People are frustrated and are dissatisfied with the results of the election, which will only cause more chaos," he added.
Concerns about militias
Former governor of Ninawa Atheel al-Nujaifi said the province's civilian population is right to be concerned that the militias will have a stronger foothold in Ninawa and will completely dominate the decision-making process.
"These fears are legitimate," he told Diyaruna.
"But we have to encourage people to resist such feelings, and to instead strengthen their confidence in their ability to change their situation and prevent militias from taking over Ninawa through peaceful means," he said.
Al-Nujaifi said he believes the path to change starts with the need to "support popular demand to quickly organise local elections that will bring in a newly elected provincial council and local government".
He suggested dealing with the local authority as "an interim administration" until elections can be organised, stressing that the province has "suffered from lots of problems, and the local elections are key to solving these issues".
Iraqi MP Abdul Rahman al-Luwayzi, who represents Ninawa in parliament, told Diyaruna the province's political landscape is burdened with complex problems and political entities mired in rivalry.
These issues will pose a "significant challenge" for any local administration, he said, noting there also are issues with the Kurds over control of certain areas, as well as cooling relations between the federal and local governments.
"The current government, with its strong ties to decision-makers in Baghdad, might be able to overcome some of these rather complex problems," he said.
But analysts like al-Juhayshi are not convinced.
"What else could we expect from the new governor but to follow in the footsteps of his predecessor, al-Akoub, resulting in more suffering for the local population because of corruption, bad governance, neglect, poor implementation of services projects and absence of controls and accountability?" al-Juhayshi said.
"This will give militias already active in the province -- such as Asaib Ahl al-Haq, Harakat al-Nujaba, Kataib Hizbullah and Saraya al-Khorasani -- more power than before to steal funds allocated for reconstruction and national resources via their economic offices," he said.
These Iran-backed militias are already anxious to obstruct the course of investigations into the ferry incident "and burying that file for good", he added.