Iraqi officials and local leaders are seeking to lay the foundations for civic peace within communities that are still suffering as a result of crimes perpetrated by the "Islamic State of Iraq and Syria" (ISIS) while it was in control.
Efforts are under way to encourage reconciliation between the families of ISIS fighters and those who lost loved ones or property during the group's rule.
Reconciliation efforts are making progress in some parts of Anbar, but remain a thorny issue in Ninawa, where tensions have arisen between people believed to be family members of ISIS victims and the family members of ISIS elements.
According to judicial sources, "retaliatory incidents" have taken place in Mosul, Iraq Akhbar reported on April 24th, with Ninawa's deputy mayor Nour al-Dean Qublan confirming to Diyaruna that these incidents have occurred.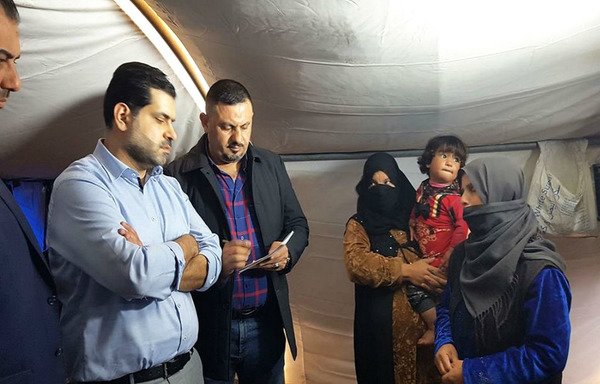 To help rehabilitate ISIS family members and protect them from retaliatory attacks, the local authority in Mosul about two years ago decided to move them to camps for internally displaced persons (IDPs) closer to the city.
A majority of the families have been taken to an IDP camp in Bartala, where rehabilitation programmes are offered so they can be reintegrated into society.
"Most of the families and relatives of ISIS members are currently living in IDP camps and shelters in southeastern Mosul," Qublan said.
When dealing with crimes related to terrorism, local authorities turn to the legal process and the judiciary to ensure justice is served, he added.
Protecting innocent people
"The issue of ISIS families is sensitive due to the legacy of crimes committed by [the group], which placed many in the circle of culpability and revenge," said Ali al-Bayati, spokesman for the Independent High Commission for Human Rights.
"There have been several reports from our offices in the liberated provinces that describe the difficult conditions these families are going through in the camps," he told Diyaruna.
To address this situation, the commission "recently formed a fact finding committee to understand the conditions of these families", al-Bayati said.
"Most of them are women and children with no support or income," he said, noting that they face challenges from all sides.
"On the one hand, they cannot return to their neighbourhoods because local communities shun them, and on the other, staying in the camps as isolated individuals makes their psychological and economic conditions even worse."
"This issue requires intervention and significant support from the government and the international community," he said.
Continued efforts to rehabilitate these women and children are essential, he added, "as some of them might be influenced by or sympathetic to extremist thinking".
It is particularly important to care for the children, he said, by "giving them access to education and providing them with the necessary documents so they can be integrated into society".
This will put them on the path to becoming productive individuals, he said.
Upholding the rule of law
Al-Bayati also called on the government "to listen to the grievances of ISIS victims and meet their needs".
"ISIS family members who have the blood of innocent people on their hands should be brought to justice just like their ISIS relatives," he said, discouraging retaliation outside the legal system.
"Punishment by the rule of law will befall the murderers sooner or later, and revenge is not the path to justice, nor will this give these victims their rights," he said.
In Diyala, Salaheddine and Anbar provinces, some ISIS families who were not convicted of terrorism crimes have returned to their former communities as part of ongoing reconciliation efforts.
Local officials and tribal leaders "are working hard to mend the rift that terrorists created among families in Anbar", said Iraqi MP Falih al-Esawi, who represents Anbar in parliament.
Iraq's westernmost province has been making a concerted effort to discourage revenge attacks, incitement and violence, he told Diyaruna.
Tribal and local leaders are working towards greater civil stability by attempting to unify their approach, and are attempting to resolve "intractable issues through direct reconciliatory meetings among families", al-Esawi said.
These efforts are intended to ensure everyone is treated equally under the law, he said, "as victims of terrorism have rights and innocent ISIS family members also should not be neglected".
If the families of ISIS fighters are not able to reintegrate into society, they are likely to "become easy prey for extremists and advocates of violence", he said.
"Although we are trying to resolve this complex issue, a final resolution will take a long time and a lot of effort from state institutions and the judiciary system, as well as from civil society and international organisations," he said.