The Iranian regime has been engaged in a quest to establish its long-term influence in Syria by establishing a religious and cultural infrastructure designed to tilt the Sunni-majority nation in its favour.
These efforts supplement its military presence -- the Islamic Revolutionary Guard Corps (IRGC) and affiliated militias -- and its economic aspirations, as evidenced by a raft of economic agreements from which it seeks to profit.
The Iranian influence is most obvious in Damascus and its environs, as well as in Deir Ezzor and Aleppo provinces, Syrian lawyer Bashir al-Bassam told Diyaruna.
In these areas in particular, he said, the IRGC has been "taking advantage of the difficult circumstances civilians are going through due to the protraction of the war" to win over local populations in various ways.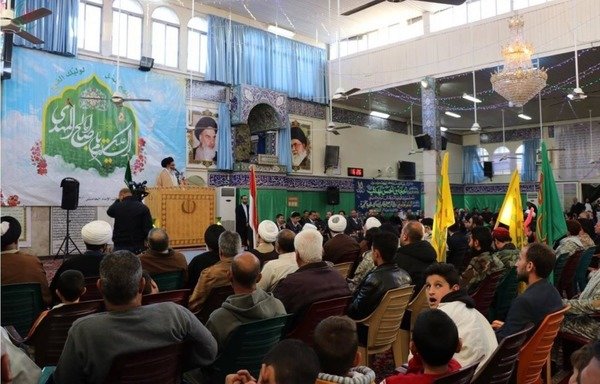 Through charitable initiatives with a strongly sectarian focus and military recruitment efforts, the Iranian regime seeks to alter the social structure of Syria, "which strikes a balance between all existing sects", he added.
Iran's efforts to extend its influence in Syria also include the propagation of the doctrine of Wilayat al-Faqih (Guardianship of the Jurist), which calls for allegiance to al-Wali al-Faqih -- Iran's Supreme Leader, Ali Khamenei.
This encourages a shift in loyalty to Iran, over and above Syria, he said, and would give the IRGC leverage over Syrians who pledge their allegiance to the Supreme Leader.
This could have devastating consequences, al-Bassam said, "because the IRGC's actions are fueling sectarian conflict on a large scale".
IRGC consolidates its presence
The IRGC has backed militias in Deir Ezzor with money and weapons, exploiting the area's rampant unemployment and economic distress to strike agreements with tribal leaders, Aleppo activist Ahmad al-Salem told Diyaruna.
Under these agreements, local dignitaries "receive monthly financial support and in-kind assistance from IRGC-affiliated organisations such as Jihad al-Bina and al-Shaheed foundation, in exchange for recruiting youth", he said.
Likewise in Aleppo, he said, the IRGC "has penetrated deep into the province and formed numerous affiliated armed groups there".
It has recruited a large number of youth into these militias, enticing them with money and the promise of avoiding mandatory military or reserve duty, he said.
In Deir Ezzor, the IRGC also has been buying up real estate properties -- houses and shops -- as well as agricultural land, to consolidate its presence, he said.
IRGC-affiliated organisations such as Jihad al-Bina and the Ahl al-Bayt Shrines Authority also have opened offices in the province, with the goal of winning over the local population and recruiting fighters for the IRGC, al-Salem said.
"The Iranians opened a number of husseiniyas and shrines, and organised pilgrimages to these areas from Iran and Iraq," he said.
These include Nabeh Ali shrine in Mahkan near Mayadeen in Deir Ezzor, shrines in the Damascus-area city of Daraya -- including the Sakina shrine which is currently undergoing restoration -- and al-Noqta mosque in Aleppo, he said.
The IRGC also has expanded its influence in Aleppo University, he added, where many students have fallen under the influence of its ideology.
Iranian influence in Damascus
Only a small number of the civilians who left Eastern Ghouta in rural Damascus have returned, Damascus-area activist Mohammed al-Beik told Diyaruna.
For the most part, he said, the returnees or the ones who remained in rural Damascus are those who accepted the terms of return, which includes acceptance of Wilayat al-Faqih or employment with the IRGC.
This is clear in the area around Damascus, he said, where "streets are teeming with Iranian sectarian flags and processions organised by religious groups".
This type of activity is not Syrian in character and does not reflect the country's traditions and heritage, he said, but instead reveals the influence of Iran.