Iraqi forces on Sunday (April 28th) began a large-scale sweep though eastern Diyala's Khanaqin district in search of "Islamic State of Iraq and Syria" (ISIS) remnants and sleeper cells, a military official said.
"Large units from the Diyala police, the army's 5th Division, mobilisation forces, tribesmen and the Iraqi air force" are taking part in the operation, Diyala Operations Commander Maj. Gen. Abdul Muhsin al-Abbasi told Diyaruna.
Joint forces on Sunday combed 11 villages along al-Wand river: al-Hurriya, Shah Mohammed, Malak Shah, Ali Daoud, Mardan, Mohammed Abbas, Ahmed Bek, Sheikh Raheem, Ali al-Saadoun, al-Uhkuwa and Imam Baba Mahmoud, he said.
The operation aims to "completely eliminate any terrorist presence", he added.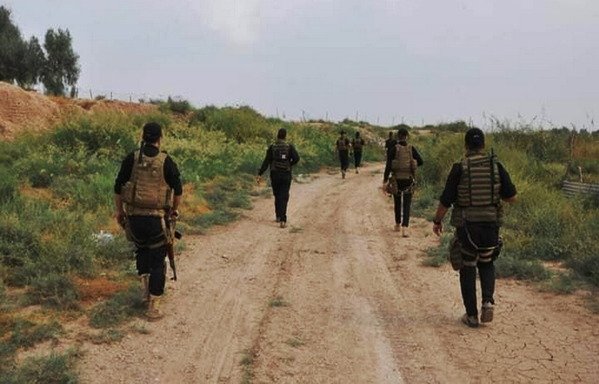 "The villages have been secured and adequate protection has been provided to their inhabitants," al-Abbasi said.
Security efforts have so far resulted in "the arrest of one person wanted on terrorism charges and the destruction of two enemy rest-houses", he said.
Before the sweep, he said, security forces managed to secure several areas where ISIS remnants were present, including al-Waqf basin in Diyala.
"The basin area is now safe from ISIS elements," he said. "The tribesmen of al-Mukhaisa and Abi Saida (northern Diyala) are today actively participating in supporting the basin's security."
Ramadan security plan
The Diyala Operations Command will be implementing a security plan in co-ordination with the local police "to prevent ISIS remnants from disturbing citizens' security during the upcoming month of Ramadan", al-Abbasi said.
The plan places an emphasis on "strengthening fortifications and monitoring areas around mosques, entertainment areas and civilian gatherings", he said.
The command is carrying out search missions in villages and uninhabited areas in eastern Diyala and near the border with Salaheddine "to maintain pressure on the enemy and not to give it any chance to regroup", he said.
In carrying out this work it has been "co-operating with intelligence agencies that are playing a key role in the fight against terrorism", al-Abbasi added.
"We are also working to speed up the return of internally displaced persons (IDPs), and have recently brought back 500 families to their homes," he said.
"We intend to bring back all displaced families," he added, with an initial focus on those returning to the areas of South Bahraz, Bani Weis and Baldrouz.