A spate of recent "Islamic State of Iraq and Syria" (ISIS) attacks in Diyala province have stirred concerns among the local population, with tribal officials vowing to stand with security forces in routing the group's remnants.
The Diyala Police Command on Sunday (January 27th) held an emergency meeting with military and local leaders and intelligence agencies to discuss the security situation in the province and develop future plans to enhance security.
Officials in a statement played down the recent attacks as mere "incidents that could take place in any province".
These incidents "do not mean that certain areas have fallen into the hands of the terrorist ISIS gangs", they said, urging the media to be accurate when reporting on these incidents.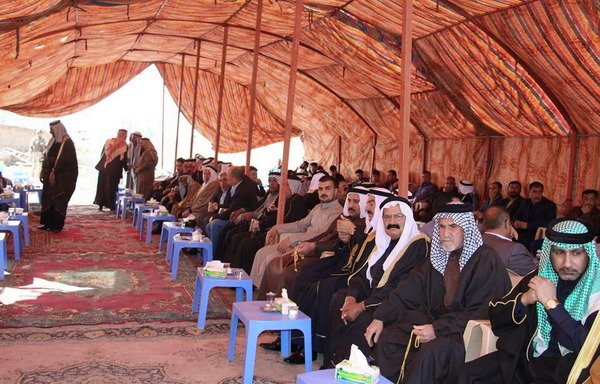 The unity of security agencies and their strong collaboration with the local government and residents has "played a major role in creating a safe environment in the province", the officials said.
The terror attacks have been concentrated in villages in al-Waqf basin, Abu Saida and Khanaqin, including Mukhaisa, Abu Khanazeer, Abu Karma, Jalabi and Shaykhi.
Tribes rally against ISIS
Diyala tribes on Thursday (January 24th) announced a "general mobilisation" to confront ISIS, after the group's remnants infiltrated villages in the north-eastern parts of the province.
They said they have put their troops in a state of readiness to help rout the group's remaining cells, according to local officials.
Militants have launched a series of terror attacks in recent days that claimed the lives of security elements, said Sheikh Haitham al-Houm, al-Nada tribe leader in Diyala.
The latest incident took place on Sunday when militants attacked a security checkpoint in Khanaqin, wounding four security personnel, he told Diyaruna.
The attackers fled to an unknown destination.
"Three days ago, a soldier was killed by an ISIS sniper in the area of ​​Mayah, north-east Diyala," al-Houm said.
He stressed that security forces are "doing a good job in protecting the province and ensuring residents' safety by hunting down ISIS remnants".
ISIS seeks to exploit Diyala's geographical terrain and its farmlands to regroup its fighters and intensify its attacks, he said.
But security forces are not allowing the group any opportunity to achieve this goal, said al-Houm, adding that they carry out their duties "with the support of the local population and in co-ordination with the tribesmen".
Tribesmen and local dignitaries are "renewing their support for their brothers in the police and army", he said, "and are ready to crush the terrorist remnants and eliminate their criminal activities."