Efforts are under way in Ninawa to rebuild trust and strengthen social bonds among the province's various religious and ethnic groups in the aftermath of "Islamic State of Iraq and Syria" (ISIS) rule, officials told Diyaruna.
Local authorities are working to restore the harmonious social relationships that have characterised the province throughout its history, they said.
Until ISIS seized control of Ninawa, "members of several sects were living peacefully side by side in Sinjar", said Sinjar mayor Fahd Hamed, describing the district as a "microcosm of Iraq".
The Yazidis, a minority group, formed the majority in Sinjar district, he said, co-existing "alongside the Turkmens, Shabak, Christians as well as Muslims".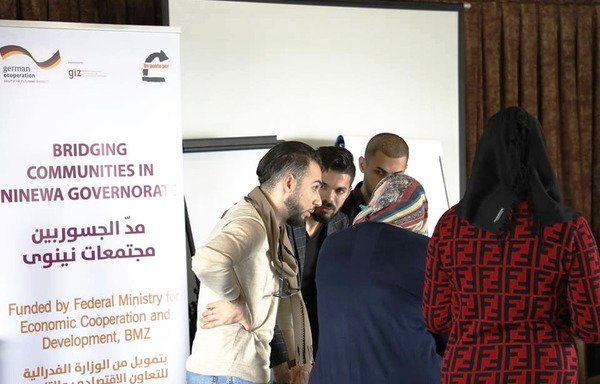 "People were neighbours and cared for each other, and these bonds were built over hundreds of years," he said. "Then the terrorists came over and committed their crimes of killing, expelling and raping the Yazidis."
Most Yazidis are aware that ISIS "does not represent a tribe, sect or religion", he said, but these crimes "caused a societal rift and deep wounds among Yazidis, who are still suffering in the aftermath of these acts".
"We are holding meetings to bring people together and reinforcing peace and co-existence within communities in Sinjar," he said. "But we have to acknowledge that returning things to their previous state will require a lot of time and effort".
Since ISIS was ousted, many displaced Muslim families have returned to their homes in Qayrawan and the villages of Abu Khashab, Um al-Thiban, Karana and al-Kolat on the outskirts of Sinjar, Hamed said.
"Reconciliation is possible, and we are taking positive steps in that direction with individuals and families whose hands have not been stained by the blood of innocent people," he said.
Those who have been implicated in acts of terrorism have been shunned by the community and their fate is in the hands of the law, Hamed said, calling on local tribal leaders to disown members who are affiliated with ISIS.
Healing in Ninawa Plains
In Ninawa Plains, residents also are working to restore social harmony, al-Hamdaniya district council head Faisal Iskandar told Diyaruna.
"At first, it was complicated, but we are now seeing success following meetings and communication with locals," he said.
"We have held several conferences and publicly-attended seminars on co-existence that focused on solidarity, brotherhood, closing the chapter on terrorism and its psychological remnants," he said.
There is a significant role to be played by public figures, academics, local officials and civil activists in educating the local population and helping to advocate for tolerance and openness among members of society, he said.
Al-Hamdaniya district council is "making sure all displaced individuals and families, regardless of their background, have the right to return", he said, with the exception of those who are proven to have belonged to ISIS.
Muslims, Christians, Shabak and Kakais are among those returning, he said.
"ISIS left a huge societal gap as many people lost loved ones and their possessions due to the crimes of this group, and we are now trying to do everything we can to fix what has been broken," he said.
A spirit of co-existence
Ninawa provincial council has been working to restore a spirit of co-existence within the province, council member Khalaf al-Hadidi told Diyaruna.
Reconciliation committees comprised of local officials, dignitaries and activists are working to repair social fissures through "direct dialogue with local communities as well as through strengthening national identity", he said.
Al-Hadidi called on the government to compensate the victims of ISIS and to ensure justice is served for the perpetrators of the group's crimes.
These efforts will help to "maintain security and the rule of law throughout the liberated areas, particularly in places known for social diversity", he said.