Residents of Iraq's Ninawa Plains have been learning how to support social peace in the aftermath of the "Islamic State of Iraq and Syria" (ISIS) occupation.
As part of this effort, the Bridging Communities in the Ninawa Plains project has been offering workshops and community-building activities for participants of various ethnicities and religious groups.
Here, young men and women can learn the skills they need to build bridges and restore the foundations of peaceful co-existence among the local population.
During a recent Alternatives to Violence workshop, held June 23rd to June 25th in the town of Bartella, youth learned how to resolve conflict using non-violent methods, the initiative's media manager Jameel al-Jameel told Diyaruna.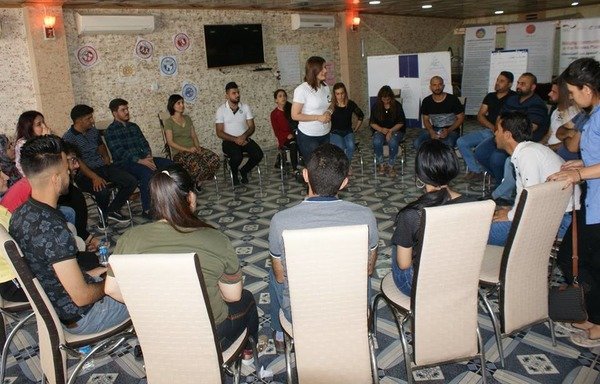 More than 20 participants between the ages of 20 and 30 took part in the programme, where they learned how to control aggression and anger and how to listen to others and positively engage with different viewpoints, he said.
The group also took part in exercises in which they engaged with peers from all segments of Ninawa society in an effort to highlight their commonalities.
"The trainees represent all local ethnicities, which include Muslims, Christians, Kurds, Turkmen, Shabak and Kakais," al-Jameel said.
"The younger generation is the future and the most capable of building stability, which is why we aim to bring them together with their local leaders such as clerics, government officials and tribal leaders," he said.
"It is our duty to make peace builders out of these young people as they pledge to develop their communities," he said.
'Spirit of tolerance'
The first stage of the Bridging Communities in the Ninawa Plains project began a year ago, with funding from the German government and Un Ponte Per (UPP), an Italian voluntary association.
Three local organisations -- the Yazidi Organisation for Documentation, al-Rusul al-Sighar Relief Organisation and Dak for Yazidi Women -- are taking part.
"We have implemented a host of workshops and training sessions for young people from Ninawa Plains areas, which include Bartella, al-Hamdaniyah, Qaraqosh and Bashiqa," al-Jameel said.
The goal is to "rebuild a spirit of tolerance, strengthen ties and confront factors that cause societal imbalance and the negative effects of terrorism", he said.
Folkloric festivals have been part of the project, along with community-building activities such as marathons and beautification efforts, he said, adding that the next stage of the project will begin in August and will include more events.
'A place for co-existence'
ISIS tried to rip apart Iraq's social fabric, particularly in Ninawa Plains, which is known for its ethnic diversity, said Bartella district council member Jalal Boutros.
Local organisations and young people from all backgrounds have been seeking to mend the social fabric in their areas, he told Diyaruna.
"Our area has and will continue to be a place for co-existence," Bartella administrator Ali Mohammed Fathi told Diyaruna. "Supporting this co-existence is an important step towards building a better future."
Ushering out a group that promoted a culture of violence and extremism and replacing it with a culture of love and social cohesion is "our goal", Ninawa provincial council services committee member Hosam Eddin al-Abbar told Diyaruna.
"We have to quickly get rid of any trace of ISIS and close the dark chapter of terrorism," he said. "We have to find alternative ways to violence."
"Dialogue is one of them," he said. "Through dialogue, we will become closer to each other and disagreements can be resolved."