Iraqi authorities are preparing to repatriate all Iraqi nationals residing in al-Hol refugee camp in Syria's al-Hasakeh province, including the women and children of "Islamic State of Iraq and Syria" (ISIS) elements.
The government is "focusing on repatriating all Iraqis living in al-Hol camp in Syria", said Ali Abbas Jahankir, assistant director general of the Ministry of Migration and Displacement's department of branch affairs.
"We have started preparing a camp to receive them in al-Kask area, western Ninawa province, with a total capacity of 4,000 tents and the potential for more, based on requirements," he said.
The ministry has already repatriated 16,000 Iraqis from al-Hol camp over the past two years, receiving them from the Syrian Democratic Forces (SDF) and transporting them to Iraq via Ninawa's Sinjar district.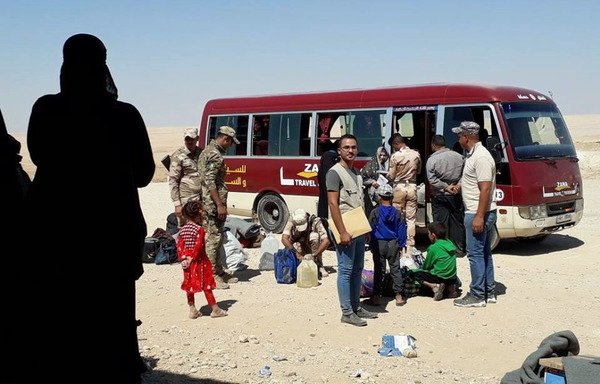 "There are still more than 30,000 Iraqis in the camp," Jahankir said, explaining that these people fled across the border when ISIS overran swathes of Iraq in 2014.
Al-Hol has taken in a comparable number of Syrians over the years, he said.
More recently, the families of thousands of ISIS fighters who surrendered to the SDF in al-Baghouz have been relocated to the camp, including Iraqis, he added.
Iraqi forces will conduct detailed security checks of individuals handed over by the SDF, Jahankir said, and will ensure those who have been implicated in acts of terrorism will be brought to justice.
ISIS women stir trouble at al-Hol
Violent fights have erupted in al-Hol between recently-arrived ISIS women who are still holding on to the group's ideology, and others who had moved to the camp with their families to escape the extremists.
Several scenes of women chanting pro-ISIS slogans as the SDF removed them from the conflict areas in al-Baghouz have made the rounds on social media.
ISIS women have been causing problems since they arrived at al-Hol camp, where they have been accusing the other women of being unbelievers and alleging they are not following sharia, according to media reports.
These actions prompted camp managers to separate the women.
Iraqi authorities have kept a close eye on the latest events in al-Hol, and have recorded videos of ISIS women who have not shown remorse but have instead "pledged full allegiance to the group", said security expert Saeed al-Jayashi.
"This will be taken into consideration when all Iraqis are handed over by the camp's administration," he told Diyaruna.
Before returning to their homeland, Iraqi ISIS family members "will be subjected to a host of security procedures to make sure they have not been influenced by extremist ideology or been involved in acts of violence", he said.
Cleared families to be reintegrated
Families who are cleared by the security forces will be entered into a rehabilitation programme to "help them reintegrate and re-adapt to their communities", al-Jayashi said.
Iraq has so far received 382 Iraqi ISIS elements, out of the hundreds who had turned themselves in to the SDF or were detained during the fighting in Syria's al-Baghouz over the past few weeks.
These men are being investigated by Iraqi security forces, he said.
Camps in the Ninawa areas of al-Khazir, Hassan Shami, al-Jadaa and al-Mudarraj already hold thousands of internally displaced persons (IDPs), said Ninawa provincial council member Ayed al-Louayzi.
"If there is a plan to absorb the large numbers of IDPs from al-Hol camp, the government should strengthen its support [to Ninawa], since the resources of the local government are limited and the burden is quite heavy," he said.