The tables have turned for residents of Ninawa province who suffered the most at the hands of the "Islamic State of Iraq and Syria" (ISIS), as they are the most likely to report any suspicious activity to the authorities, Iraqi officials said.
Ninawa's civilian population has been coming forward in larger numbers to provide the authorities with tip-offs on ISIS activities, they told Diyaruna, with most reports coming from victims of the group's violence.
One informant was shot by ISIS as he and his brother attempted to flee the fighting in western Mosul early last year. His brother was killed as they fled.
"I was traumatised, and have since vowed to avenge my brother and all other victims," he told Diyaruna, asking not to be identified for security reasons.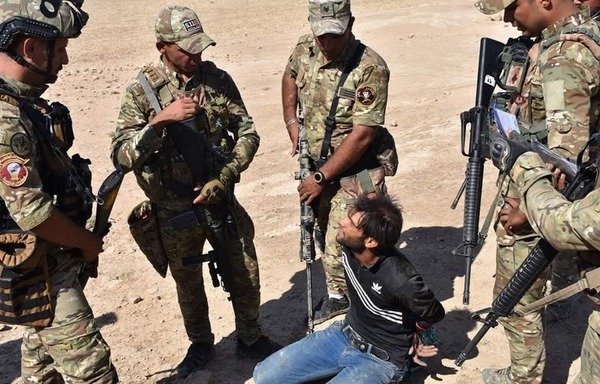 This man and others who suffered or witnessed similar tragedies at the hands of ISIS are actively reporting any ISIS activity or irregularities they observe in Mosul's neighbourhoods to the authorities.
This kind of information has helped Iraqi forces track the militants' movements and find their hiding places.
"I do not seek any sort of personal benefit from this," he said. "My goal is to make sure there are no terrorists to roam around freely, threatening our lives and our children's futures."
"This is what I promised myself."
Civilians no longer fear reprisal
Iraqi civilians are "doing what they can to protect their cities against terrorism", said Duraid Hikmat, advisor to the Ninawa governor.
"Their sense of responsibility has grown," he told Diyaruna, noting that more people have been helping the security forces by "quickly delivering any information relating to terror activities as well as organised crime".
"In the past, civilians would not report on any terrorist activity as they feared for their lives," he said. "But after the liberation battles, things have changed, and we are receiving more and more intelligence from locals."
"It is only natural that victims of terrorist operations come forward and co-operate as a result of the suffering and trauma they endured at the hands of ISIS," Hikmat said.
"People are eager to do anything they can to protect their cities against danger," he added.
The vast majority of successful raids on ISIS hideouts in Ninawa are a result of intelligence gathered from the local civilian population, council member Ayed al-Louayzi told Diyaruna.
Security forces say "that locals, especially those who have had difficult experiences with ISIS, are the most supportive of efforts to rid the cities of ISIS remnants", he said.
Tip-offs lead security forces to ISIS
Ninawa police say they arrested at least 78 people in November, including ISIS commanders, elements and other criminal suspects. Another 19 militants who had been hiding out in Ninawa province were killed during the same period.
Most of these hideouts were found thanks to civilian efforts, police said.
"Heinous terrorist acts have made civilians more willing and fearless in approaching the authorities with their suspicions," al-Louayzi said.
"Building the relationship between civilians and the security forces is pivotal, because any security effort will not be effective without this dynamic relationship," security analyst Fadel Abu Ragheef told Diyaruna.
There are many examples of civilian support, he said, "with a striking example being the tip-off al-Suqour Intelligence Unit received on November 18th", which led security forces to six militants in al-Qayrawan administrative district.
The six had been behind the deadly November 8th bombing of a Mosul restaurant, which killed dozens of people, Abu Ragheef said.
Several operations have been conducted based on intelligence gathered by civilians, "especially those who were personally affected by terrorism", he said.
"People who have been burned by ISIS fire will not give this radical group a chance to survive," he added.