In the days following the deadly November 8th bombing of a Mosul restaurant, Iraqi forces put stricter security measures in place to prevent the recurrence of such attacks, local officials told Diyaruna.
These new security measures have gone hand-in-hand with an "unprecedented" uptick in tip-offs coming in from civilians reporting suspicious activity, they said.
The car-bomb blast, which detonated outside the city's Abu Layla restaurant, killed three people and wounded 12, medical and security sources told AFP.
It was the first since Mosul's recapture from the "Islamic State of Iraq and Syria" (ISIS), and left residents shaken.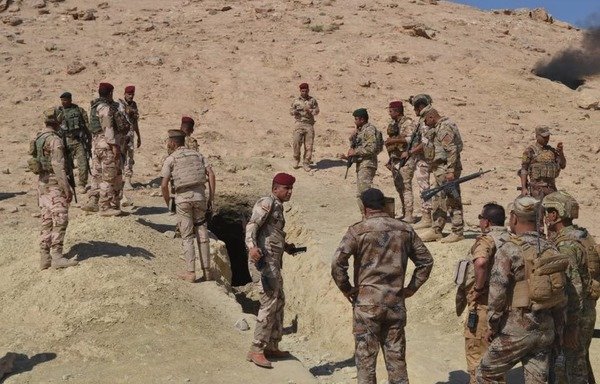 "We were liberated, so we thought that security was back," 25-year-old restaurant employee Mossab told AFP.
His car, parked nearby, was damaged in the blast.
"I have been working for four years to save up to buy it, but it all went in the blink of an eye," he said.
'Fierce pre-emptive attacks'
The incident was a "security breach that could happen anywhere in the world, and does not indicate a decline in security", said Mosul mayor Zuhair al-Araji.
"The attack made us more determined to defeat ISIS remnants and the group's covert elements in our city," he told Diyaruna.
"After this crime, our forces redeployed their units and reinforced their positions on the edges [of the city], particularly in the west," he said.
Security plans have undergone a comprehensive review that has seen more stringent protective measures put in place, al-Araji said.
These include "intensifying surveillance around the city and its main entrances and continuing to maintain checkpoints", he said, as well as "redoubling the efforts to find and target the terrorists' secret cells".
"From the time of the attack until November 15th, our forces have launched three fierce pre-emptive attacks on the outskirts of Mosul," he said.
These resulted in "the killing of 20 ISIS elements hiding in the areas of Badush, Aski Mosul and al-Humaidat", al-Araji said.
During the same period, Ninawa police arrested 14 wanted individuals in the districts of Mosul al-Jadida, Haramat, al-Quds, al-Intisar and al-Karama, among them ISIS fighters and members of the group's "hesba" (religious police).
Heightened vigilance
After the November 8th bombing, residents displayed a keen interest in safeguarding their city, al-Araji said, noting that security tip-offs increased at an "unprecedented pace".
"Residents began hastening to provide tips to security personnel about any suspicious activity, vehicle or foreign object," he said. "There is heightened vigilance and caution and close partnership in sharing responsibility."
"This terrorist incident has only made us stronger," he added, noting that people have been going about their business in the city as normal.
Following the Mosul attack, the Ninawa provincial council held meetings with security leaders to discuss ways to step up efforts to consolidate stability, council member Ayed al-Louayzi told Diyaruna.
"We have taken key measures to enhance security," he said, among them increasing the number of explosives detection (sonar) units at the city's eight entrances.
City merchants are now required to install surveillance cameras in their shops, he added, and the number of surveillance cameras has doubled in public places.
Security measures also include "strengthening the role of neighbourhood mukhtars", al-Louayzi said.
The council is meanwhile calling for the reinstatement of police officers, and for the recruitment of new officers to cover the shortfall, he added.
"We submitted a recommendation to the government in this regard, as the number of police officers currently stands at 12,000, while we need 40,000 of them for deployment inside the cities and at the border," he said.
Preserving security gains
Victory over ISIS was "a luminous historic landmark", Ninawa provincial council security committee member Binyan al-Jarba told Diyaruna. "But the post-victory phase requires a huge effort from everyone to preserve that historic gain."
"The recent security breach was met with quick security measures," he said, adding that residents have responded with a "positive attitude".
"However, we must be aware that the current phase calls for not only security measures, but also economic and social measures," al-Jarba said.
Security also requires extraordinary efforts to combat unemployment and poverty, achieve development and reconstruction and consolidate social peace, he stressed.
The November 8th bombing is "proof of the terrorists' cowardice", said Mosul resident Issam Mahmoud, who hails from the city's al-Zuhour district.
ISIS remnants "think they will get the better of us, but we are on alert and ready for them", he told Diyaruna. "We made sacrifices to win freedom, and we will never give it up."