Iraqi forces have been working to remove the threat of chemical substances left behind by the "Islamic State of Iraq and Syria" (ISIS) in liberated areas.
Before the group's ouster, ISIS fighters stockpiled chemical substances in secret locations, intending them for use in manufacturing improvised explosive devices (IEDs), government officials told Diyaruna.
Iraqi forces have since confiscated and destroyed several stockpiles of dangerous chemical substances, including ammonium nitrate.
Iraqi forces found five 20-litre containers filled with ammonium nitrate in Anbar province on October 26th.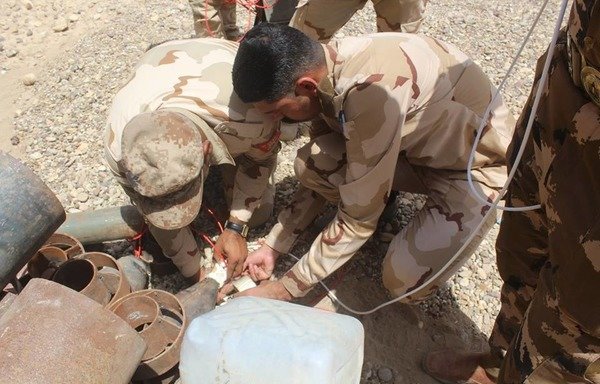 On November 5th, they found 25 jerrycans filled with a further 25 litres of the substance in Samarra, which had been mixed with highly explosive sulphur.
This stockpile, left behind by ISIS, was the largest of its kind to be found since mid-April, when police seized 150 kilogrammes of ammonium nitrate and half a tonne of aluminum shavings inside a bomb-making factory in western Mosul.
A dangerous legacy
ISIS left behind a significant number of weapons and explosives, Anbar provincial council security committee member Shallal Naji Obeid told Diyaruna.
"But the most dangerous are these chemical substances, which it used to make deadly explosives," he said. "The group recruited individuals who were experienced in handling such toxic substances and using them to make explosives and IEDs as well as car bombs and suicide belts."
ISIS had been planning to build its capacity to "stage the most vicious and barbarous attacks, even if that meant using banned substances", he said.
Since ousting ISIS from Iraqi cities, "Iraqi forces have worked tirelessly to deplete the group's capabilities and prevent its elements from getting their hands on those chemicals", Obeid said.
"This effort has yielded positive results, as many of these stockpiles of toxic substances and explosives are now in the hands of our forces," he added, noting that once they are uncovered, these stockpiles are immediately destroyed.
These hiding places are uncovered with help from the local population, who are ready and willing to provide any information that would lead to the eradication of ISIS hideouts and remnants, he said.
Hunt for hidden locations
Security forces are "undertaking concerted efforts to counteract the toxic effect of these chemicals on the civilian population", Ninawa provincial council member Ghanim Hamed told Diyaruna.
"There have been developments in this area that resulted in finding old storage facilities and factories where the most potent explosives were manufactured," he said. "Some may still be there, but our forces will eventually find and destroy them."
"The group's stockpile of dangerous substances is beginning to run out, and it no longer has technical capabilities to convert these substances into effective bombs," Salaheddine provincial council member Abed Sultan al-Jubury told Diyaruna.
ISIS remnants who fled to hideouts in the deserts are being targeted, he added, "and their weapons and supplies are being exhausted".