Terrorism
|
2016-11-22
Watchdog to probe new chemical attack allegations in Syria
By Waleed Abu al-Khair in Cairo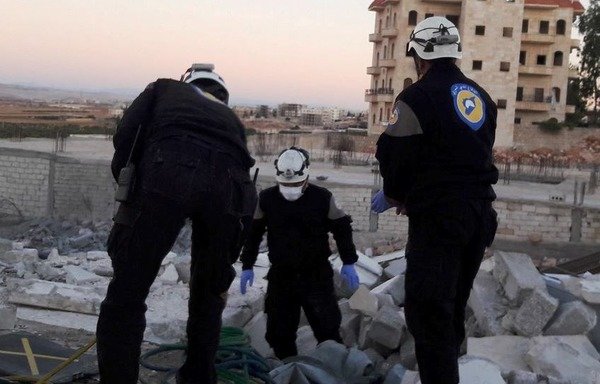 The world's chemical arms watchdog is investigating more than 20 reports of the alleged use of toxic arms in Syria since August, including an attack on Aleppo in which activists claim the Syrian regime used chemical weapons.
In another "extremely worrying" development, experts with the Organisation for the Prohibition of Chemical Weapons (OPCW) believe the "Islamic State of Iraq and the Levant" (ISIL) may have itself manufactured mustard gas used in attacks in Syria and Iraq, OPCW director general Ahmet Uzumcu said last week.
On Friday, the UN Security Council extended the mandate for another year of a special joint UN and OPCW panel to allow it to investigate chemical attacks which have been reported in Syria this year.
Since August 1st, new allegations have emerged from both the Syrian regime and opposition of the "use of chlorine and unidentified agents in Aleppo and in northern parts of Syria" such as Idlib, Uzumcu said.
The panel set up by the UN, known as the Joint Investigative Mechanism (JIM), determined during a year-long probe that Syrian regime forces carried out three chlorine gas attacks on villages in 2014 and 2015.
The panel also found that ISIL was behind a mustard gas attack in Syria in August 2015 .
Mustard gas samples from attacks in Syria and Iraq have been analysed by the OPCW's laboratories in The Netherlands and "the findings do suggest that this substance may have been produced by ISIL itself", Uzumcu said.
Aleppo attack
Local activists who spoke with Diyaruna following a September 6th attack on Aleppo's al-Sukkari district claimed the Syrian regime had used chemical weapons they suspected of containing chlorine.
The toxic gas was contained in barrel bombs dropped by military helicopters over neighbourhoods that have been subjected to intense airstrikes, they said.
After the attack, a "large number of residents complained of several symptoms similar to those caused by toxic gases", said field hospital volunteer Noureddine al-Jammal.
These include redness of the eye, severe pain, breathing difficulties and shortness of breath, as well as violent coughing and vomiting, he told Diyaruna.
More than 100 civilians were in the affected area, he said, including a large number of women and children, as "the barrel exploded near a bomb shelter used by the neighbourhood's residents".
A young man and a child died as a result of the attack, al-Jammal said, adding that the afflicted were distributed among various city hospitals and medical centres.
Al-Jammal said his colleagues and rescue workers noted "the emission of a strong odour from the site of the explosion that is very similar to the smell of chlorine, and the same odour was detected on the clothes of the injured".
In a statement issued a day after the attack, Uzumcu said the OPCW was "disturbed by the recent allegations of the use of toxic chemicals in Aleppo".
"Such allegations are taken very seriously by the OPCW," he said. "The use of chemical weapons by anyone, anywhere and under any circumstances is unacceptable."
Eyewitness accounts
"Suspicions are very high that chemical weapons were used in the aerial bombardment," said activist Jamaluddine Taleb of the Aleppo 24 Facebook page.
Local reports and eyewitness accounts indicate that civilians in more than one area were exposed to chlorine gas, he told Diyaruna, including al-Sukkari and al-Zabadiya neighbourhoods.
Confirmation of these accounts requires laboratory testing, however, which is impossible in Aleppo due to the current situation, he said, noting that there is no laboratory capable of conducting such tests at this time.
"The only solution is to have an international delegation and representatives of the OPCW enter the area and conduct tests at the sites that were bombarded," he said.
The longer this type of investigation is delayed, he said, the more likely it is that evidence will be obliterated, especially as airstrikes are ongoing in the area.
Some of the munitions being dropped on Aleppo are "internationally banned weapons, such as cluster and thermobaric bombs", Taleb said.
News of toxic bombs "sparked additional panic among the besieged civilians", he said, adding that "any barrel bomb that is dropped is considered lethal, even if it falls at a distance away, because of fears it could contain toxic substances".
"The likelihood of the Syrian regime using chlorine in airstrikes is very high, despite the presence of UN observers and OPCW [representatives] in Damascus", said military expert and retired Egyptian military officer Maj. Gen. Talaat Moussa.
This is because chlorine is a substance that is commonly found in any civilian shop, unlike other toxic substances and gases such as Sarin, he told Diyaruna.
"It is possible to add a chlorine mix to a barrel bomb very easily and in a short amount of time," he said. "The procedures of handling chlorine are very simple and the protection the person adding chlorine to a barrel bomb needs is very basic and consists of a mask and protective clothing."
Ban on chemical weapons
The issue of chemical weapons in particular could "hamper efforts to find a political solution to the Syrian crisis", said Regional Centre for Strategic Studies researcher and Cairo University criminal law professor Wael al-Sharimi.
If it is proven that the regime or ISIL used any similar substance, they would be subject to international sanctions, he told Diyaruna.
The Syrian regime had pledged to eliminate its entire stockpile of chemical weapons under the supervision of the UN, he said, adding that any violation of this pledge will break the terms of the 1993 Chemical Weapons Convention.
"The inspection teams will resume their work, and may request quick transportation to the area suspected of coming under attack with chlorine," he said.
Although chlorine is not a military substance, the Chemical Weapons Convention prohibits the use of chemicals as a weapon, he said.
The OPCW's condemnation of the Syrian regime's use of toxic weapons is "clear evidence that the international community is determined to penalise the regime for its actions, which constitute an international crime", said Khairuddin Abdul Mutaal, an expert in international law and professor at Egypt's Assiut University.
As for ISIL, the steps undertaken by OPCW will pave the way for legal proceedings against it in the International Criminal Court, said terror group expert Maj. Gen. Yahya Mohammed Ali, a retired Egyptian army officer.
ISIL elements "must receive severe punishment for the massacres and attacks that they have, and still are, committing against civilians", he told Diyaruna.
"International laws ban the use of chemical substances not only against civilians but also in battle, and any use of these materials constitutes a crime punishable by law," he said.
Precautionary measures must be put in place to protect civilians as a matter of urgency, Ali said, as the fight to retake al-Raqa in Syria and Mosul in Iraq is in full swing and ISIL "could use all available means [against civilians] as the noose tightens around its neck".