Yazidi campaigner Nadia Murad and Congolese doctor Denis Mukwege won the 2018 Nobel Peace Prize on Friday (October 5th) for their work in fighting sexual violence in conflicts around the world.
They will receive the prize at a December 10th ceremony in Oslo.
Murad, 25, is the first Iraqi to win the Nobel Peace Prize.
She once lived a quiet life in the village of Kocho in Sinjar in northern Iraq. But when the "Islamic State of Iraq and Syria" (ISIS) overran the area in 2014, she was kidnapped by the group, and her fate changed forever.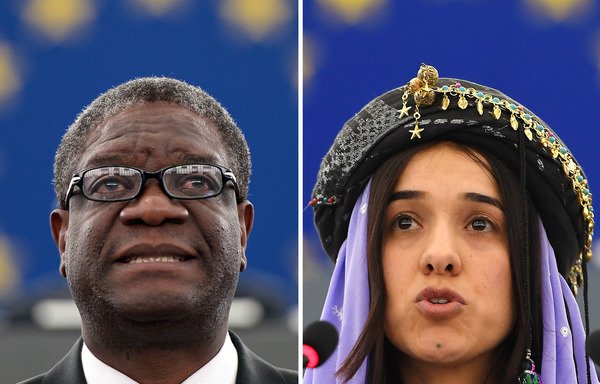 Murad was one of thousands of Yazidi women and girls who were abducted, raped and brutalised by ISIS during their assault that year on the Kurdish-speaking minority, which the UN has described as genocide.
After her escape, she became a figurehead for efforts to protect the Yazidis, and was later named a UN ambassador for victims of human trafficking.
Reacting to the award, she said it was a significant victory for all women suffering from sexual violence.
"It means a lot, not just for me, for all of these women in Iraq and all the world," she told the Nobel Foundation.
"For those small communities that are being persecuted, this prize tells me that their voices are being heard."
'Uncommon courage'
The Nobel committee hailed Murad's "uncommon courage", saying she had "refused to accept the social codes that require women to remain silent and ashamed of the abuses to which they have been subjected".
New Iraqi President Barham Saleh hailed Murad's win as an "acknowledgement of the tragic plight" of the Yazidis as well as recognition of "her courage in defending the human rights of victims of terror and sexual violence".
The award to Murad was "an honour for all Iraqis who fought terrorism and bigotry" and "recognition for her courage in defending human rights of victims of terror and sexual violence", Saleh said.
"We are full of joy. It is another slap in the face of terrorism," said Iraqi MP Vian Dakhil, who represents the Yazidi community in the Iraqi parliament.
"In defending the victims of sexual violence in conflict, [Murad and Mukwege] have defended our shared values," said UN Secretary-General Antonio Guterres.
As a goodwill ambassador since 2016 for the UN Office on Drugs and Crime, Murad "has pursued support for victims of human trafficking and sexual slavery and justice for perpetrators", Guterres said.
"Her powerful advocacy has touched people across the world and helped to establish a vitally important UN investigation of the harrowing crimes that she and so many others endured," he added.
Murad continues the fight for the 3,000 Yazidis who remain missing.
Raising global awareness
The Iraqi Ministry of Migration and Displacement announced it had nominated Murad -- then 23 -- for the Nobel Peace Prize in February 2016.
The nomination was motivated by the desire "to raise global awareness of the plight of Iraqi women in general and Yazidi women in particular at the hands of ISIS", ministry spokesman Sattar Nowruz told Diyaruna at the time.
"She has become a symbol of women's struggle against the dark forces that seek to enslave and degrade their honour," he added.
Murad emerged as an icon for victims of ISIS on December 16th, 2015, when she spoke boldly and openly about her enslavement and rape at the hands of ISIS before the UN Security Council.
At the time, Iraqi officials told Diyaruna that the news of her nomination was a significant morale boost for all terror victims, and a step towards further exposing ISIS's crimes against humanity.
Murad told Diyaruna she welcomed the nomination as a chance to expose ISIS's violations and deter youth from joining the extremist group and others like it.
Murad speaks out
"Rape was used to destroy women and girls and to guarantee that these women could never lead a normal life again," Murad said during her testimony at the UN Security Council's December 2015 meeting on trafficking of persons in situations of armed conflict.
She described her August 2014 abduction with around 150 Yazidi families.
"Along the way they humiliated us. They touched us and violated us," she said, adding that in Mosul, ISIS fighters exchanged girls from these families as "gifts".
She said one man had wanted to take her and beat her when she protested, and she begged another man to take her out of fear of the first man.
The second man asked her to change her religion but she refused, she said. He asked her to marry him and, a few days later, forced her to join his military faction, forcing her to wear clothes that did not cover her body.
She described how he beat her, asked her to take off her clothes, and put her in a room with the guards, who then committed crimes against her until she fainted. "I implore you − get rid of ISIS completely," she said.
Murad was held captive for three months before she was able to escape.
"I have been enslaved, sold, and rented out dozens of times in Mosul, Tal Afar, and al-Hamdaniya over a period of three months; I was separated from my mother and siblings and have not seen my mother since," she said at the UN.
Exposing ISIS's crimes
"This is a humanitarian issue that is unrelated to religious, denominational, sectarian, ethnic or political identity," Murad told Diyaruna in 2016.
"My objective is to expose ISIS's crimes against humanity and warn youth against joining the ranks of extremist organisations such as ISIS," she said.
"The fact that I am representing this humanitarian cause, which has received the welcome and support of many around the world, is indeed a victory over ISIS," Murad said.
But the greatest victory will be in destroying extremist ideology, she added, and in finding an international solution for respecting the rights of women and children in conflict areas all around the world.