The Iraqi government has pledged its full support to an international team tasked with investigating the crimes of the "Islamic State of Iraq and Syria" (ISIS) and to facilitate its work.
The investigation should be relatively straightforward, according to Iraqi human rights officials, as there is an abundance of criminal evidence that clearly and unequivocally implicates the group.
An international investigative team has been established, pursuant to UN Security Council Resolution 2379 of 2017, to support Iraqi efforts to hold ISIS to account for its crimes.
The team, headed by British human rights lawyer Karim Asad Ahmad Khan, has been tasked with collecting, preserving and storing evidence in Iraq of acts that may amount to war crimes, crimes against humanity and genocide committed by ISIS.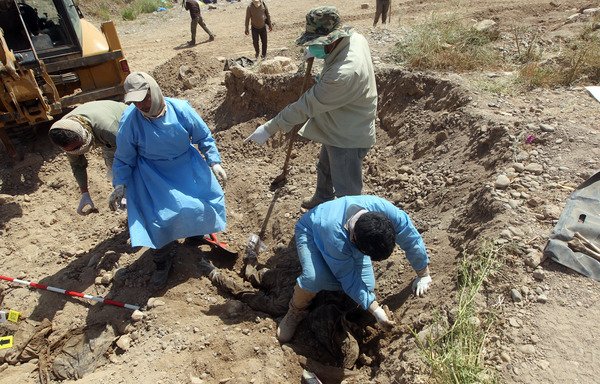 UN Secretary-General Antonio Guterres told the Security Council in a letter sent August 17th that the investigators would begin work on August 20th, AFP reported.
Guterres told the council that Khan, who was appointed in February, had made a first mission to Iraq from August 6th to 14th.
"Iraq supports the mission of the international team, whose evidence will be submitted to national courts so the perpetrators may be tried in accordance with Iraqi laws," Foreign Ministry spokesman Ahmad Mahjoub said in a statement.
The Iraqi government has promised to facilitate the mission of the international team and to help it to carry out its work, he said, adding that Iraqi courts have full judicial jurisdiction to prosecute the group's crimes.
'Considerable evidence'
"The crimes committed by ISIS left behind considerable evidence," said Iraqi High Commission for Human Rights member Faten al-Hilfi.
This evidence will not be difficult to access and identify, she told Diyaruna.
Al-Khasfa -- a sinkhole south of Mosul in Ninawa province that ISIS used as a mass grave -- is one of the most notorious mass graves uncovered to date.
This site alone "holds the corpses of more than 10,000 ISIS victims", al-Hilfi said, and stands as stark evidence of the group's brutality.
In a March 2017 Human Rights Watch report, eyewitnesses from the area gave horrific accounts of victims being killed and thrown into the pit.
They said they had seen multiple mass executions conducted there, sometimes on a weekly basis, beginning in June 2014 and continuing until May or June 2015.
Al-Hilfi called on investigators to look into unreported crimes in addition to known incidents, which have already been identified to the authorities.
"Do we wait for the thousands of victims who are missing there to file complaints before we investigate the crimes committed against them?" she asked, referring to the nameless victims of al-Khasfa and other mass graves.
"These are genocide crimes that do not require witness testimony as much as we need to show and reveal them to the entire world so it may be informed about the crime," she said.
"The High Commission for Human Rights will, in turn, submit all the complaints it has collected through monitoring activities or from citizens to the competent judicial bodies," she said, and will stand by the victims until justice is served.
Violations against Yazidis
Former Iraqi MP Vian Dakhil, who has represented the Yazidi community in parliament, urged the international team to examine the "cruel and heinous" crimes ISIS committed against the Yazidis.
These included "physical and psychological abuse, taking women captive as sex slaves, and the slaughter of men", she told Diyaruna.
"The international team is called upon to examine the various documents that incriminate the group for the crimes committed when they overran the city of Sinjar," she said.
"There are videos and testimonies of Yazidi women survivors who were subjected to unspeakable atrocities by the group's elements," she said.
"The international team is called upon to work within its international framework and not stop at investigating and looking for the perpetrators and the group's elements inside Iraq," security analyst Jassim Hanoun told Diyaruna.
It must also pursue ISIS "financiers and supporters and those who provided logistical support to it from outside the country", he said.
"Terrorism today is a global epidemic that is not confined by certain borders," he said. "Therefore, any international investigation of crimes must be extended to include so-called charities that secretly fund terrorist groups."
Investigations also must extend to "those who train and set up terrorist camps on their soil, and anyone who provides support in any way to these groups", he said.
The investigation of these crimes by an international team "will help Iraq unveil these heinous crimes to the world", he added.