Iraq's Independent High Commission for Human Rights on Friday (October 12th) said it expects the international team tasked with investigating the crimes of the "Islamic State of Iraq and Syria" (ISIS) in Iraq to begin its work early next year.
An international investigative team has been established, pursuant to UN Security Council Resolution 2379 of 2017, to support Iraqi efforts to hold ISIS to account for its crimes.
The team, headed by British human rights lawyer Karim Asad Ahmad Khan, has been tasked with collecting, preserving and storing evidence of acts that may amount to war crimes, crimes against humanity and genocide.
Khan made a preliminary visit to Iraq from August 6th to 14th, during which he met with a number of Iraqi officials.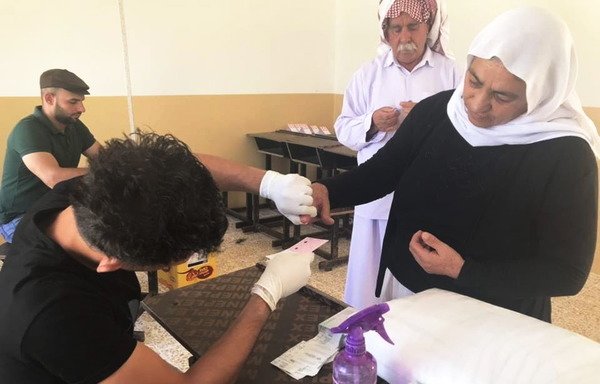 "He visited the Human Rights Commission's headquarters in Baghdad, and members of the commission expressed their readiness to co-operate with Khan and his team," commission spokesman Ali al-Bayati told Diyaruna.
"The commission will spare no effort to ensure the success of the UN envoy's mission," al-Bayati said, adding that it will provide the team with documents and evidence that implicate ISIS.
Mission will take at least 2 years
The team will have to complete some technical matters related to financial grants from the UN Security Council before beginning work, al-Bayati said.
The grants will allow the investigative team to set up its headquarters and hire additional members, he said, adding that "Iraqi experts in the fields of law, criminal investigation and forensic medicine" are expected to join the team.
The UN resolution has allocated two years to complete the mission, with the possibility of renewal, al-Bayati said.
"We expect that the work will take more than the allocated time," he said, as the matters to be addressed are numerous and complex.
"The investigation team will collect all documents related to major crimes and violations classified by international law as crimes of war, crimes against humanity and genocide," he said.
The team will investigate this evidence in co-operation with representatives of the relevant Iraqi authorities, al-Bayati added.
The task will require examining documented evidence of ISIS crimes and hearing the testimonies of eyewitnesses, survivors and victims' families in order to establish transitional justice, he said.
"Achieving that goal and giving people their rights is an essential step in establishing the foundations of peace, reconciliation and stability," he said.