A few days ago, Mohammed al-Aboudi tearfully received the remains of his son, Kamal, which had been exhumed from a mass grave in Iraq's Salaheddine province several months earlier.
Before that, his body had been missing for years.
In 2014, Kamal had been undergoing military training at Camp Speicher in Salaheddine when the province fell into the hands of the "Islamic State of Iraq and Syria" (ISIS), his father told Diyaruna.
"We knew he was killed by the terrorists because we saw him in one of the videos released by the group," al-Aboudi said. "He was among other soldiers who were being taken for execution, but we did not see him get executed."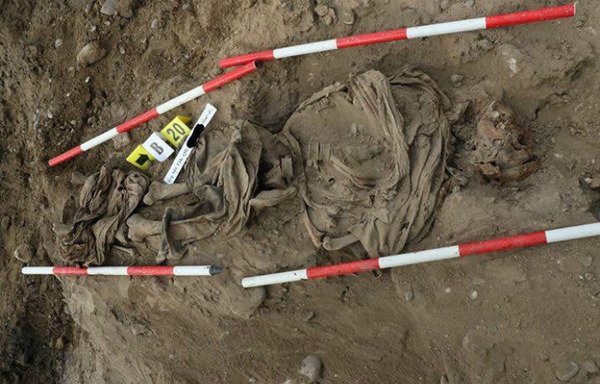 As soon as Tikrit was liberated, stories of mass graves began to emerge.
"Our only goal was to find the remains of our son," al-Aboudi said, noting that he gave the forensic lab in Baghdad a DNA sample so it could be compared against the hundreds of other bodies that were found at the site.
Kamal's body was identified, and was returned to the family a few days ago.
"It really was not a body, but a bunch of featureless bones," al-Aboudi said, but it enabled the family to reinter him in a marked location.
"I thank God that Kamal now has a grave that we can visit every Eid," he added.
Indiscriminate killings
Al-Aboudi's family are Shia, but the families of hundreds of other ISIS victims of all sects whose loved ones were found in mass graves share a similar sad story.
Abu Nizar, a Sunni from al-Hawija, fled to Kirkuk after ISIS captured it in 2014.
He was among the first to return after al-Hawija was liberated, he told Diyaruna, in search of the remains of his relatives, who had been killed by the group and may have been buried in a mass grave.
In a photograph posted online, ISIS showed two of Abu Nizar's cousins being executed. Another image shows their bodies hung at a city entrance, he said.
Abu Nizar said his relatives were executed "for the sole reason that they helped some people escape al-Hawija", he said.
"They were suspected of colluding with the security forces and were sentenced to death," he said, adding that the day has come for him to go looking for their remains in the mass graves, which were revealed after the city was liberated.
The search effort was more difficult than he had expected, Abu Nizar said, noting that corpses in the mass graves have deteriorated with time.
He urged the government to exhume and identify the bodies quickly, before citizens open the graves themselves and complicate the identification process.
All components of Iraqi society suffered at the hands of ISIS and can be found in the group's mass graves, said Fadel al-Gharawi, who serves on Iraq's Independent High Commission for Human Rights.
"Mass graves can be found at Camp Speicher, Tuz Khurmatu and Bashir in Salaheddine and Kirkuk provinces, where all the victims were Shia," he told Diyaruna.
But the group also targeted Sunnis who opposed them, he said, and their bodies can be found in mass graves in al-Alam, Fallujah and Diyala, while several mass graves containing the remains of Yazidi victims have been found in Sinjar.
"Iraqi society as a whole was on the ISIS hit list," al-Gharawi said.
It is yet unknown how many victims were thrown in mass graves "because of how difficult it is to reach these mass graves due to security concerns", he said. "But some dangerous indicators point to the presence of thousands."
Eyewitness accounts
Al-Khafsa is one of the most notorious mass graves uncovered to date, with unofficial estimates indicating it contains the remains of 25,000 bodies.
In a Human Rights Watch report published March 22nd, eyewitnesses from the area gave horrific accounts of victims being killed and thrown into the naturally occurring sinkhole, located eight kilometres south of western Mosul.
Eyewitnesses said they had seen multiple mass executions conducted at the sinkhole, sometimes on a weekly basis, beginning in June 2014 and continuing until May or June 2015.
They said they heard ISIS fighters talking about other executions, including those of former police, former members of the Iraqi security forces, and members of the Sahwa.
"Some of the victims may also have been detainees at Badoush prison, 10 kilometres west of Mosul, which ISIS captured on June 10th, 2014," the HRW report said.
Five witnesses said that in June 2014, they saw ISIS fighters bring four truckloads of blindfolded and handcuffed people to the sinkhole. They lined them up on the edge and opened fire so their bodies fell right in.
One of the witnesses said in September 2014, at least 13 women -- all with full face coverings and cloaks and blindfolds, with their hands bound -- were taken to the same site and executed.
The five witnesses, who lived near al-Khafsa, said they had heard estimates of between 3,000 and 25,000 people executed at the site, the report said.
They said they often heard screams and gunfire, and that by early 2015, the stench from the bodies had become unbearable.
Evidence of ISIS crimes
Al-Khafsa is "the grave of victims from all Iraqi components", according to Independent High Commission for Human Rights spokesman Ali al-Bayati.
"This does not mean that other mass graves are any less important," he told Diyaruna, noting that one grave found in the town of Bashir included the remains of one woman with her children.
Despite its small size, he said, that grave still reflects "the barbarity of criminals killing a woman and her children for no reason".
Al-Bayati appealed for international support and expertise to help Iraqi authorities, represented by the Iraqi Martyrs Foundation, exhume and identify bodies found in mass graves around the country.
Iraq is facing economic hardships and is having trouble securing funds for exhumation, he said. "Moreover, there are a large number of mass graves with thousands of victims, which no Iraqi institution alone can handle."
UN Security Council Resolution 2379, adopted September 21st, asked the UN Secretary-General to establish an independent investigative team to support domestic efforts to hold ISIS accountable for its actions in Iraq.
The team will collect, preserve and store evidence of acts that may amount to war crimes, crimes against humanity and genocide committed by ISIS in Iraq.
It will operate with full respect for Iraq's sovereignty and jurisdiction over crimes committed on its territory, and will include Iraqi investigative judges and other criminal experts, who will work alongside international experts.
This resolution will provide a mechanism for Iraq to open its mass graves, al-Bayati said, as these sites will provide conclusive evidence about ISIS's crimes.