The Iraqi Federal Police has killed 22 "Islamic State of Iraq and Syria" (ISIS) elements in a military operation launched Friday (September 28th) in al-Hawijah district in southwest Kirkuk province.
The "Azm al-abtal" (The determination of the heroes) campaign is one of the largest security operations conducted in the district since it was liberated from ISIS last year, al-Hawijah district council member Ammar al-Hamadani told Diyaruna.
"Large units from the 3rd, 5th and 6th divisions of the Federal Police, as well as the mechanised division, are participating in the operation," al-Hamadani said Monday.
They are accompanied by a sniper regiment, military engineering and medical assistance units, and drones, he said, adding that the operation receives air cover from the Iraqi air force.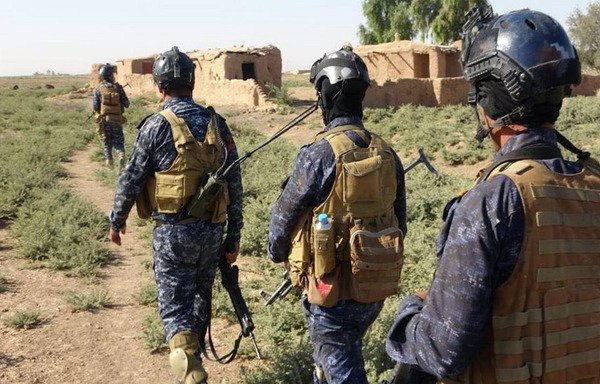 "During the three days of the operation, the police forces have carried out a large-scale search of dozens of villages in the areas of al-Rashad, al-Riyadh and al-Zab," he said.
"As a result, a number of terrorists were killed, weapons, equipment and explosives were seized and subsequently disposed of, and hideouts were burned and destroyed," al-Hamadani said.
Successful campaign
The Federal Police on the first day of the operation searched 23 villages, including the villages of al-Asriya, Atshana, al-Azizi, Sousa, al-Sheikh Muzhir, Tal al-Ward and al-Atwaniya.
The search resulted in the killing of 21 ISIS elements who were taking cover in secret tunnels and hideouts, he said.
Police forces destroyed 37 improvised explosive devices (IEDs), 12 mortar shells and six anti-tank mines, as well as food supplies, said al-Hamadani.
On Saturday, police forces searched 63 villages near al-Hawijah, seizing 19 IEDs and three containers containing the highly explosive C-4 that were destroyed, he said.
They also destroyed five tunnels, five rest-houses and stocks of weapons, and arrested four suspects, he added.
The police on Saturday killed a suicide bomber wearing an explosive vest who tried to attack them as they were carrying out an inspection duty in the village of Tal al-Matar in al-Zab.
On Sunday, they arrested Abdul Aziz al-Hamadi, who was wanted on charges of terrorism, and destroyed two tunnels, nine rest-houses, 40 IEDs, 15 mortar shells and two motorcycles.
The search campaign included 43 villages, including the villages of al-Rummana, al-Zaidan, al-Salihiya, al-Marzouq, al-Qureishiya, Hamad al-Sultan, al-Debb al-Sughra and al-Debb al-Kubra.
"The operation is proceeding successfully and yielding positive results," al-Hamadani said.
Threats by ISIS remnants are diminishing in al-Hawijah "as they face great security pressure, are unable to move from one place to another easily and as they have become very few in number and broken", he said.