Iraqi police on Thursday (May 2nd) combed remote villages in western Kirkuk province's al-Hawijah district, destroying "Islamic State of Iraq and Syria" (ISIS) hideouts and clearing explosives, a local official said.
In the villages of al-Hamdaniya and Tuwaylaa, security forces taking part in the operation were able to safely detonate 51 improvised explosive devices (IEDs) made of metal cylinders stuffed with TNT.
In the villages of Hashisha and Dulas al-Kubra, they destroyed four hideouts that had been used by the group's remnants.
Units from the Iraqi Federal Police Command's 3rd and 5th Divisions took part in the sweep, al-Hawijah district council member Ammar al-Hamdani told Diyaruna.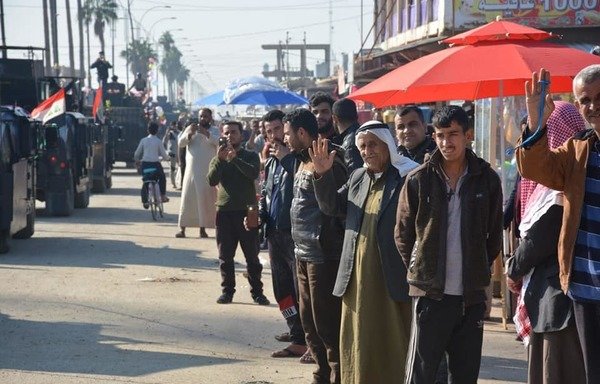 The operation was conducted "under the direct supervision of the command of the advanced headquarters of joint operations in Kirkuk", he said.
"The units achieved significant results in terms of clearing villages west and south-west of al-Hawijah of explosives that had been planted and stored by terrorists and burning down their rest-houses and hideouts," he said.
Security forces taking part in the sweep have been able to search vast territory and secure the road between al-Hawijah and al-Dabs district, he said.
"The road is now free of IEDs and safe," he added.
Security prevails in al-Hawijah
Security prevails in all parts of al-Hawijah district "as a result of mutual co-ordination between security men and the local population", al-Hamdani said.
"The citizens are the security forces' watchful eye, and provide strong backing in the tracking down and elimination of terrorists fleeing justice," he said.
While the activity of ISIS has come to an end in all parts of al-Hawijah, he said, the group's remnants can "still be found in very limited numbers, especially in some villages in al-Rashad sub-district".
Security forces are heavily deployed in the area, and are focusing their efforts on tracking down ISIS remnants in all parts of Kirkuk province, not just in al-Hawijah, he added.
Recent security operations have been conducted in the area of Wadi al-Shay in Daqouq district and in the Hamreen mountains, al-Hamdani noted.
These operations targeted ISIS leaders and elements and their hideouts and included a co-ordinated Iraqi army and international coalition airstrike.
These effective, sudden attacks have thwarted ISIS plots to disturb security, he said, and have contributed to the stability of Kirkuk and neighbouring provinces, especially Diyala and Salaheddine.