Iraqi forces on Wednesday (September 12th) destroyed dozens of improvised explosive devices (IEDs) and mines left behind by the "Islamic State of Iraq and Syria" (ISIS) in the desert of Anbar province, a tribal commander told Diyaruna.
The explosive materials were found over the first three days of a sweep operation conducted by units from the Island Operations Command, the army's 7th and 8th Divisions, police and border emergency units, and tribesmen, said Sheikh Qatari al-Samarmad al-Obeidi.
"These forces, supported by Iraqi air force and international coalition aircraft, started a large sweep Sunday of the desert from the area of al-Tarabisha, in Ramadi Island, to the border with Syria," he said.
Large areas have been searched in the islands of Heet, al-Baghdadi and Rawa, which include creeks and natural caves, as well as orchards and dense thickets of vegetation along the northern edge of the Euphrates river, he added.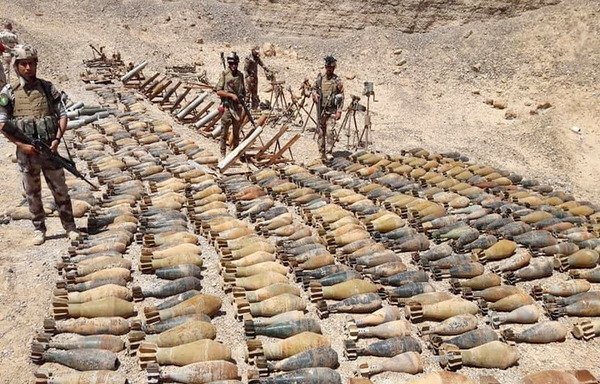 "The search led to the discovery of 175 IEDs and mines and a large number of projectiles that belonged to ISIS during its control of large swathes of Anbar," said al-Obeidi.
Some of the IEDs found were filled with C-4 high impact explosives.
Iraqi forces also "destroyed seven old ISIS tunnels in the areas of Sin al-Dhib and Baroutha" in the desert between the cities of Heet and al-Baghdadi, he said.
Operations to pursue ISIS 'will not stop'
The period before the start of the operation saw a large number of ISIS leaders and elements get killed in security operations and coalition airstrikes, especially in Rawa Island, al-Obeidi said.
"The information we have indicates [Rawa Island] is still harbouring terrorists," he said.
"The sweep campaigns will not stop," he said, adding that security forces are heavily deployed in the desert and around cities.
"The only alternatives left to the remaining terrorists are either to be killed or fall in our forces' hands," he said.
Last week, a wanted ISIS leader was arrested in a successful operation in the village of al-Mudhim, western Anbar.
"Ukab Shahin Jabir al-Hayani, who was a senior ISIS leader in al-Shamiya area in Anbar, is currently being interrogated about his activities and terrorist connections," al-Obeidi said.