Joint Iraqi forces on Monday (May 21st) killed six "Islamic State of Iraq and Syria" (ISIS) fighters in Anbar province after surrounding their hideout.
Army and tribal forces staged the operation after receiving intelligence that a group of ISIS fighters were hiding out in a cave deep in the desert, about 40 kilometres north of Rawa, said Sheikh Qatri al-Obeidi, an Anbar tribal leader.
A military force, backed by Albu Nimr tribal fighters and army aircraft, headed to the reported location and surrounded the cave from all directions, he said.
Six of the ISIS elements hiding inside the cave were killed in an airstrike.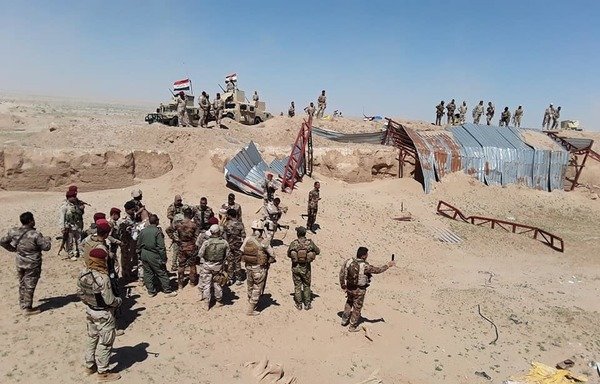 "Light weapons and stocks of equipment were found in the possession of the terrorists killed in the hideout," al-Obeidi said.
Al-Jazeera Operations Command, the army's 7th and 8th divisions and tribal forces have been carrying out continuous "successful and effective operations" targeting remaining ISIS positions in the western desert, al-Obeidi said.
"We have a joint security duty daily and we continue searches in remote desert areas," he said. "In the course of these duties, we find from time to time old terrorist hideouts or hotspots left by the group and destroy them immediately."
Desert villages searched
Iraqi forces on Sunday (May 20th) conducted a search operation in four desert villages north of Rawa: Tamishan, Umm Samawi, Khanifis and Umm al-Wuhoush.
Three hidden caches left by ISIS that contained 19 improvised explosive devices (IEDs) and three IEDs filled with C-4 explosives were destroyed in the operation.
Heightened border control efforts have ensured "the crossing of terrorists from Syrian territory into Iraq is in decline", al-Obeidi said.
"Security patrols closely monitor the border strip with Syria and employ strict measures to prevent the flow of any terrorists," he noted. "The border is under firm control and any infiltration is quickly detected and dealt with decisively."
Iraqi forces on Thursday arrested two ISIS elements as they were trying to cross the border into Iraq from the Syrian province of al-Hasakeh.
The two wanted men, one of whom was a member of ISIS's "religious police", ran into an ambush set up for them by the Military Intelligence Directorate.
A day earlier, an ISIS element who had infiltrated from the Syrian village of al-Dashisha was arrested during a pre-emptive operation.