Internally displaced persons (IDPs) who fled the outer edges of the northern Syrian province of Idlib for its interior and its edges near the border with Turkey, are experiencing extremely difficult conditions, a local activist said.
They face high temperatures, water scarcity and the lack of a sanitation system.
The displaced population in eastern rural Idlib, which includes children and the elderly, is experiencing "tragic" conditions due to the lack of minimum living requirements, media activist and Idlib native Haisam al-Idlibi told Diyaruna.
They have set up an informal camp between the towns of al-Ghadfa and Maar Shourin that is not served with electricity, water or sanitation, he said, and the residents have been neglected by civil society and humanitarian organisations.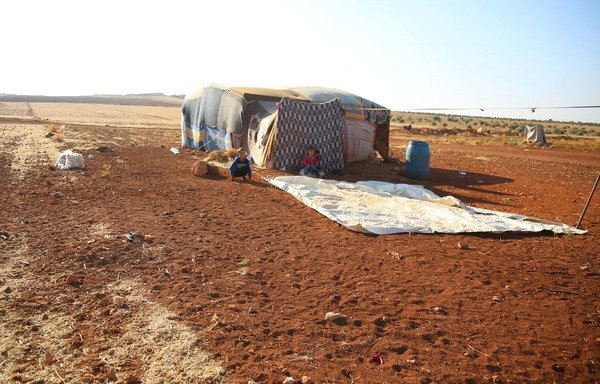 Humanitarian operations have been halted as a result of restrictions imposed upon aid organisations by the extremist alliance Tahrir al-Sham, which has been harassing activists, volunteers and relief workers, al-Idlibi said.
Based on firsthand observations made during visits to the camp and information obtained from camp residents, the sanitation system consists of channels dug by camp residents themselves that are totally exposed, he said.
These are unsanitary and can cause the spread of illnesses and insects, he said, especially when the temperature exceeds 40 degrees Celsius.
Water is rarely available, he said, adding that when it is, it is not fit for drinking.
Similar informal camps have sprung up elsewhere in the region, he said, settled by residents of towns near regime-controlled areas that have come under heavy shelling, forcing them to move to safer areas in the interior.
They ended up in the camps because the high rents were beyond their means, he said.
The best-known of these camps are those set up informally near the town of al-Surman in southern Idlib, whose residents had abandoned informal camps they had set up in rural Jisr al-Shughur when they came under daily shelling.
Shelling resumes on Idlib
Regime and Russian aircraft pounded Idlib with missiles and barrel bombs on Sunday (September 9th), killing at least two children, the Syrian Observatory for Human Rights said.
It was the second day of bombardment on the province and adjacent areas, after key powerbrokers in Tehran failed to reach a deal to avert a government assault.
"Regime helicopters dropped more than 60 barrel bombs on the village of Hobait in Idlib's southern countryside," Observatory head Rami Abdel Rahman said.
The raids killed at least two children and wounded six other people, he said.
In the neighbouring province of Hama, Russian jets carried out more than 10 strikes on opposition positions in the village of al-Latamneh, he said.
The raids wounded five fighters and knocked the village's underground hospital out of action, just a day after strikes damaged a similar health facility in Idlib's southern town of Hass.
The strikes eased off later Sunday, the Observatory said.
Some of the heaviest bombardment in weeks hit Idlib and nearby areas on Saturday, killing at least nine civilians, according to the Observatory.
On Monday, the UN's new humanitarian chief warned that a large-scale military operation against Idlib could create "the worst humanitarian catastrophe" of this century.
"There needs to be ways of dealing with this problem that do not turn the next few months in Idlib into the worst humanitarian catastrophe with the biggest loss of life in the 21st century," Mark Lowcock told reporters in Geneva.