Iraqi forces apprehended four men in al-Sharqat in northern Salaheddine province, accused of smuggling food to "Islamic State of Iraq and Syria" (ISIS) remnants through the Tigris river, al-Sharqat mayor announced Wednesday (August 29th).
"Police and intelligence forces arrested the smugglers after carefully monitoring their activities," mayor Ali Dawdah told Diyaruna.
The smugglers would dump defective freezers containing dry and canned food into the Tigris river, whose stream would then carry the floating containers to remote areas where ISIS remnants can pick them up, he said.
The defendants confessed to smuggling food to ISIS every day using that method, he said, and that "some of the shipments might not have reached the terrorists but fallen into the hands of the security forces or local residents".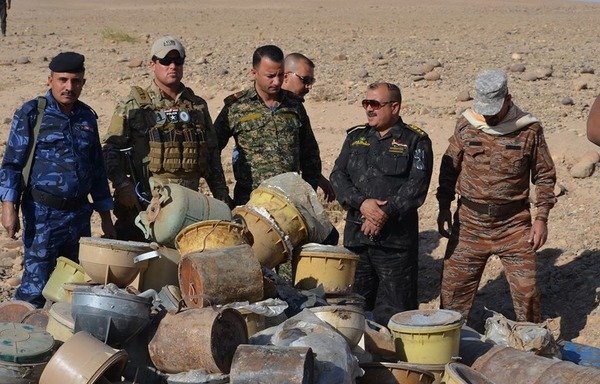 The defendants will be brought to court in Salaheddine to be tried on charges of supporting and assisting terror groups, Dawdah said.
Crackdown continues
Iraqi forces on Wednesday also arrested five men wanted for trial in eastern al-Sharqat for their involvement in "serious terror crimes", he said.
"One of them was arrested in the Sumar area in the city of Mosul after his hideout was raided by a special security force from the al-Sharqat police and intelligence service, in co-ordination with security forces in Mosul," he added.
The defendant, who is accused of planting and detonating improvised explosive devices (IEDs) targeting civilians, was found based on tip-off from his wife who lives in the camp of al-Jadaa in al-​​Qayyarah (south of Mosul), said Dawdah.
Security forces found in the possession of all five defendants weapons, IEDs and explosive belts, he said, adding that the suspects have also disclosed the location of secret sites where they were hiding large amounts of equipment.
"ISIS still has some elements scattered on the outskirts of al-Sharqat, especially in the area of Jabal al-Naml, the village of Kanous, and areas near the al-Hadr desert," Dawdah said.
These elements are facing a lot of pressure as they are constantly being pursued by Iraqi forces, and their bases and rest houses are being destroyed, he added.