Iraqi forces backed by tribal fighters have been hunting down "Islamic State of Iraq and Syria" (ISIS) remnants in the desert areas of al-Hadr district in western Ninawa in the wake of recent ISIS attacks on local villages.
Seven shepherds and farmers were found murdered on June 19th, after ISIS attacked several remote villages and kidnapped 30 people from their homes.
The fate of the remaining captives, all from the Shammar tribe, is still unknown.
The tribes have pledged to stand together as a unified force after the recent targeting of the Shammar tribe in Ain Sadid village, al-Hadr district council member Mizher Taha Khodeir told Diyaruna.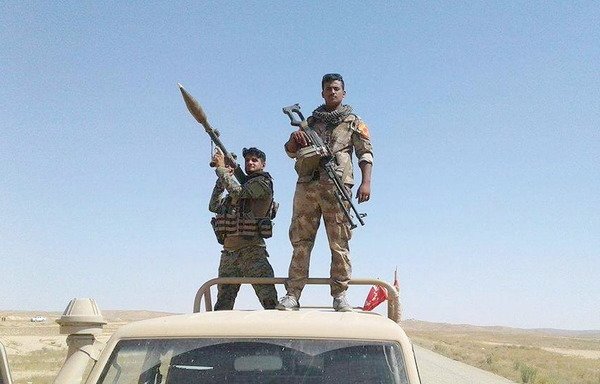 "The Shammar tribes are armed and ready to be deployed alongside the security forces to fight terrorism," he said. "Our tribes fought against ISIS and liberated the land, and we will spare no effort today to target the remaining terrorists."
ISIS elements usually travel through the desert in civilian cars or on motorcycles, he said.
"They never stay in one place for more than a few days so they will not be caught," he said, adding that they sleep in open areas and stay on the move so they will not become an easy target for airstrikes.
Security and tribal forces have launched several joint search operations to pursue ISIS remnants in recent days, Khodeir said, adding that at least 20 have been killed and others have been arrested.
Falsified identity cards were found with some of the bodies, he said, which the slain fighters had apparently used to pose as soldiers or government officials.
Vast area 'difficult to secure'
During a recent raid on villages in south-western al-Hadr, an ISIS leader who had been in charge of the Tel Asfa area was captured alongside three of his companions, said al-Hadr district council chairman Khaldoun al-Ahmady.
The tribal-backed operations in the desert are ongoing, he told Diyaruna, and seek to put an end to the threat from remaining pockets of ISIS fighters.
"It is difficult to completely secure this area, particularly since there are remote villages with the majority of their populations displaced, such as al-Sakhriyat, al-Rawi and Beir al-Marasma," he said.
He called for "additional security and tribal forces as well as aerial raids and reconnaissance missions to target terrorists wherever they may be".
"ISIS elements are trying to disrupt the security situation in the outskirts of al-Hadr by mounting terrorist attacks," said Ninawa provincial council security committee member Binyan al-Jarba.
The tribes have proven to be highly capable of fighting ISIS remnants and driving them out of their areas, he told Diyaruna, and they have "never wavered in supporting the army and police forces".
"This sense of national duty will defeat what is left of the enemy," he said.
Al-Jarba stressed the importance of strengthening security in Ninawa by recruiting and deploying additional security personnel.
"We need more than 32,000 police officers to protect the province, and we now only have half that number," he said.