Iraqi forces and tribal units on Friday (September 28th) began a security campaign to track down "Islamic State of Iraq and Syria" (ISIS) remnants hiding out in al-Sharqat district in northern Salaheddine province.
Units from the local police, army and 51st Brigade of the tribal mobilisation forces in al-Sharqat are participating in the operation.
The new campaign, the latest in a week-long series of security operations, aims to clear the outskirts of the city of al-Sharqat of pockets of ISIS remnants.
"We have started another operation to hunt down the enemy," 51st tribal brigade commander Sheikh Asham al-Jubury told Diyaruna, adding that ISIS fighters will not "enjoy any moment of rest or reassurance".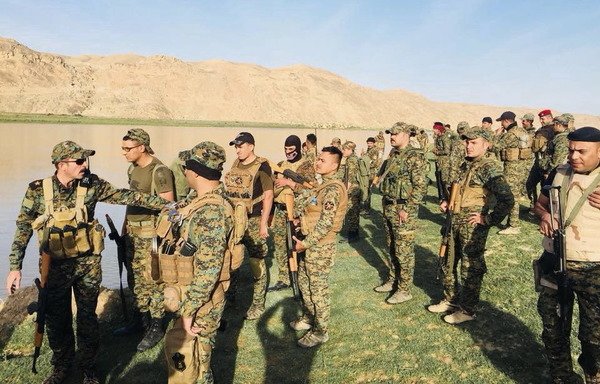 Previous sweeps have focused on villages south of al-Sharqat on the bank of the Tigris river up to al-Baj, the Makhoul mountains and the edge of al-Hadr desert.
"We are in a state of constant alert, continuously searching those areas and hunting down terrorists in river islands, caves, valleys and desert," he said.
ISIS hideout destroyed
Sweep operations began last Saturday with a "major attack", al-Jubury said.
"Our units, in co-operation with the police forces and the Salaheddine Operations Command, searched the area between the village of al-Zawiya and al-Naml mountain," he said.
"During the search, an ISIS stronghold was found, and during its blockade and the engagement with them, the [elements] fled to a tunnel in [al-Naml] mountain," he said.
"They were then hit in an airstrike and the tunnel was destroyed."
In total, 11 Iraqi ISIS elements were killed in the airstrike, two of whom have been identified, he said, along with their places of residence.
Weapons and explosives were seized in the tunnel, al-Jubury said.
The attack was followed by searches and sweeps in nearby areas, which yielded no further evidence of ISIS elements or activity.
"We believe this attack broke the back of the terrorists in those areas," he said, adding, that "this does not necessarily mean there is no danger anymore".
"Our campaigns and security efforts will continue to direct the heaviest blows at the ISIS remnants," he added.