Iraqi forces, backed by international coalition airpower, have begun a major campaign to target "Islamic State of Iraq and Syria" (ISIS) strongholds and gatherings, the Ninawa Operations Command said Monday (November 19th).
Ninawa Operations Command units and the army's 20th Division began the campaign on Sunday, with coalition jets providing air cover, command spokesman Brig. Gen. Firas Bashar Sabri told Diyaruna.
The campaign aims to clear the Badoush mountains, specifically al-Alan area on the north-western outskirts of Mosul, of ISIS remnants who have been hiding in caves in the area, and to destroy their hideouts, he said.
"The assault followed reports from intelligence sources as well as information and images we have obtained through aerial reconnaissance aircraft that monitor enemy movements in those areas of rugged terrain," Sabri said.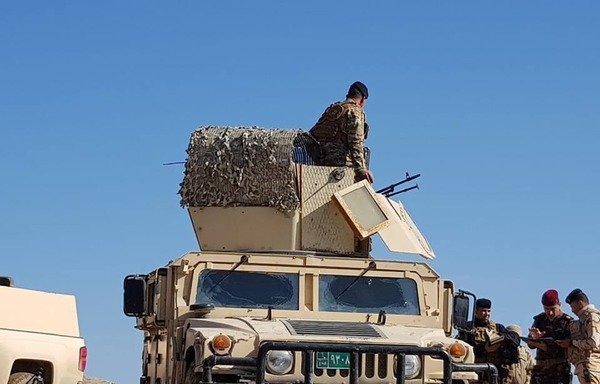 "On the first day of the campaign, the assault units and coalition aircraft destroyed three tunnels in the area," he added.
"The tunnels, one of which was 100 metres long, contained furniture, blankets, supplies and clothing belonging to ISIS elements," he said.
A number of ISIS elements who had been holed up inside these hideouts were killed, he said, and "military engineering troops defused a cache of improvised explosive devices (IEDs) that were stored in the tunnels".
Ongoing operation
The campaign will continue until the mountain chain is rid of ISIS remnants, and until any threat to the security of nearby towns and villages has been eliminated, Sabri said.
"It is part of the pre-emptive operations carried out by our forces continuously against the enemy in various areas in Ninawa," he added.
These operations have concentrated on mountains and hills, Tigris River islands with dense vegetation that can provide cover for militants, as well as the desert area in the south-west of the province, Sabri said.
"In the past few weeks, we have had pursuit and attack operations in which we achieved significant results," he said.
"We killed 14 terrorists and destroyed eight tunnels during an operation in the Atshana mountain range" west of Mosul, he said.
"We also killed 11 terrorists in another operation to comb the desert deep in al-Hadr district" and on areas along the road between Mosul and al-Hadr, he said.
"The two operations were preceded by intensive campaigns to eliminate ISIS in Albu Seif island and the small villages scattered south of Mosul, as well as areas on the banks and islands of the Tigris River," Sabri said.