Ninawa province tribes have pledged to turn in to the Iraqi authorities any tribesmen found to have been involved in the killing of Yazidis and the abduction and enslavement of Yazidi women.
This is the primary demand put forth by the Yazidis as a condition for achieving genuine reconciliation between the two groups, who each have a presence in western Mosul.
The Yazidis accuse some Arab tribes in the areas around the northern city of Sinjar of aiding and abetting the "Islamic State of Iraq and Syria" (ISIS) while the extremist group controlled the city.
"We categorically reject the group's behaviour and terrorist acts against the Yazidis and others," said al-Matyout tribal leader Sheikh Qassim al-Matyouti.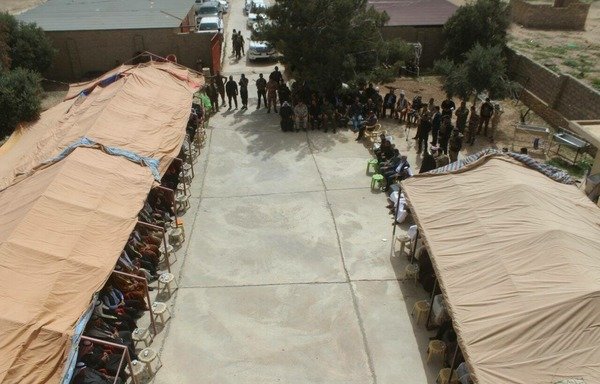 "We also disown all those who joined it and abetted it in committing its crimes in Sinjar or anywhere else," he told Diyaruna.
That said, ISIS is a terrorist entity, he added, and entire tribes should not be held accountable for its crimes just because some of their members joined it.
Al-Matyouti said his tribe has handed over most of those proven to have joined ISIS to the Iraqi authorities.
"We have disclosed to the security authorities the names of all [al-Matyout] tribesmen who are ISIS members," he said. "No other tribe has done this."
"Only a few who fled Iraq remain," he stressed, vowing that these tribesmen will be apprehended if they return to their places of residence in the province.
Perpetrators must stand trial
The tribe wants to co-operate with the Yazidis in Sinjar, al-Matyouti said, pointing out that Arab and Yazidi tribes have co-existed as neighbours in the area for hundreds of years and have traditionally enjoyed close, brotherly ties.
"Souls cannot rest and reconciliation cannot be achieved until all those involved in shedding the blood of the Yazidis are handed over," said Qassim Shesho who commands the Yazidi contingent of the Peshmerga forces in the Sinjar mountains.
The perpetrators of these crimes must stand fair trials before Iraqi or international courts, he told Diyaruna.
"We lost more than 6,000 Yazidis between those who were killed and captured, and our wives and daughters were sold in the markets of Mosul, al-Raqa and other cities that were under ISIS control at the time," he said.
"All our houses of worship were destroyed," he added.
Those responsible for these crimes "must be handed over today to the Iraqi authorities so as to achieve justice and fair redress for the victims", he said.
Shesho called on the Iraqi government and the global community to give greater attention to the Yazidis, noting that the minority group has been subjected to 74 genocides throughout its history.
There are no more than one million Yazidis left in the world today, he said, "down from more than 80 million in past centuries".
Wanted men hiding in Ninawa
The Yazidis have suffered immensely from acts of terrorism, Ninawa tribal spokesman Mazahim al-Huwayet told Diyaruna.
Al-Huwayet said he fully supports Shesho's demands, stressing that all those involved in shedding Yazidi blood should be brought to justice.
He urged Arab tribes in the areas neighbouring Sinjar to hand over any wanted individuals to the authorities as soon as possible, and to avoid contact with the Yazidis at the present time, until existing tensions have died down.
"Arab tribes are quite familiar with the norms of tribal reconciliation and the mechanisms of restitution of rights," he said.
"They know full well that they cannot sit at the reconciliation table before their Yazidi brothers are certain that all wanted individuals have been handed over to the Iraqi judiciary," he added.
A number of wanted individuals are still hiding out in the cities of Mosul, al-Baaj, Rabia and Zummar in Ninawa province, he said.
Tribes in those areas "must co-operate more closely with security agencies to find, arrest and hand them over to Iraqi authorities", he added, stressing that it is not sufficient for the tribes to disavow them.