Fierce fighting was ongoing Monday (May 7th) in and around Yarmouk Palestinian refugee camp in southern Damascus between the Syrian regime and the "Islamic State of Iraq and Syria" (ISIS).
The Syrian army and allied Palestinian, Lebanese and Syrian militias have been battling ISIS in Yarmouk and in neighbouring al-Hajar al-Aswad district since mid-April, local activist Bahaa al-Sahli told Diyaruna.
Missiles and airstrikes continue to pummel militant positions in these areas, with both sides suffering heavy casualties in recent hours, he said.
"There has been a high toll as the two areas intertwine, which put both sides in direct face-to-face confrontation," al-Sahli said.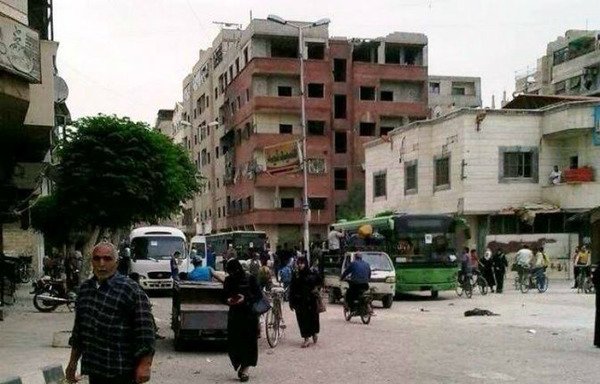 More than 30 Syrian soldiers and allied militiamen have been killed in the past 36 hours, he said.
ISIS elements captured several regime soldiers and announced they had executed two who had been captured in the ongoing battles in al-Hajar al-Aswad.
By posting photos of the executions, al-Sahli said, "ISIS seems to be trying to spread fear in the ranks of its attackers by suggesting they would be killed either in battle or by execution if they are captured".
Photos posted online showed the victims clad in orange jumpsuits -- the group's usual sign that they are about to be executed.
Hit-and-run attacks
Regime forces are seeking to end ISIS's foothold in Yarmouk and al-Hajar al-Aswad, and last week managed to sever a route linking the two areas, the Syrian Observatory for Human Rights said.
But ISIS launched a counter-attack at the weekend and reopened it, AFP reported.
"Their hit-and-run operations have continued since then, killing a total of 31 regime forces, mostly in ambushes," said Observatory head Rami Abdel Rahman.
"The regime has since been advancing slowly, taking some positions and buildings, but there has not been any strategic advance since Saturday," he said.
Regime troops control 60% of al-Hajar al-Aswad, while ISIS still holds more than 80% of Yarmouk.
Amid this outbreak of violence, the process of evacuating opposition fighters is continuing in southern Damascus, al-Sahli said.
A fourth batch departed in a convoy of 33 buses on Sunday, he said, with the evacuation process expected to be completed by Tuesday.