"Islamic State of Iraq and Syria" (ISIS) fighters and their families have begun to leave areas south of Damascus, a local activist said, although the Syrian regime has not yet confirmed it has struck an evacuation deal with the group.
A second batch ISIS fighters left the area overnight, the Syrian Observatory for Human Rights said Monday (May 21st), with a first batch transported out of the area by bus Sunday, heading for the Badiya (desert) region.
The move comes after more than one month of fierce fighting between the two sides in areas south of Damascus that has left more than 250 pro-regime forces, 233 ISIS fighters and more than 60 civilians dead, according to the Observatory.
This evacuation will bring Damascus and its hinterland under full regime control, AFP reported.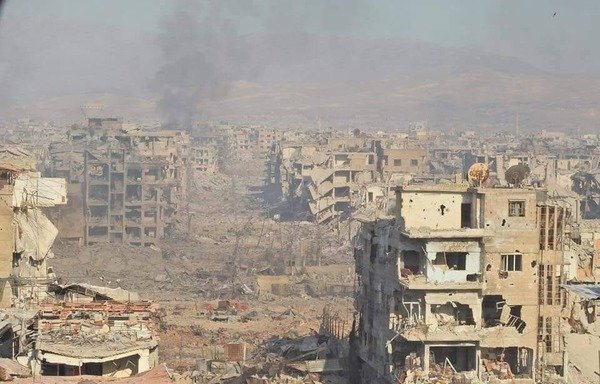 Evacuation begins
Buses have been observed transporting ISIS fighters from al-Tadamon district and Yarmouk Palestinian refugee camp to an ISIS-controlled pocket in the desert, activist Bahaa al-Sahli told Diyaruna.
The sound of gunfire and explosions in the battle between the two sides subsided gradually and stopped altogether on Saturday night, he said.
The first convoy was seen leaving Yarmouk towards the Badiya region at dawn Sunday, and a number of buses were seen entering the camp at noon Sunday to evacuate the second batch, he said.
The buses assembled at al-Batikha roundabout at the entrance to Yarmouk under heavy security protection, al-Sahli said.
ISIS fighters and their families have been moving from al-Hajar al-Aswad, Yarmouk and al-Tadamon district towards that assembly point, he said.
Clouds of black smoke billowed over Yarmouk on Sunday, he said -- not from the fighting, but from ISIS elements setting ablaze the headquarters and houses they had used in the areas from which they were retreating.
Observatory head Rami Abdel Rahman said the evacuation operation took place "at night and in secret".
"The Syrian regime does not admit to negotiating with ISIS and wants to make sure the convoy is not targeted by the coalition," he added.