Now that Anbar authorities have completed the rehabilitation of many sports stadiums and arenas destroyed by the "Islamic State of Iraq and Syria" (ISIS), the province is seeing a surge in athletic activity.
Soccer, basketball and volleyball matches and tournaments have been taking place across the province, with local teams competing to win championships.
Prior to the summer of 2014, when ISIS overran swathes of the province, there were dozens of sports stadiums and arenas in operation, said Anbar Youth and Sports Director Mojhid Fahd al-Dulaimi.
In addition to the existing facilities, he told Diyaruna, work had commenced on the construction of stadiums in Ramadi, Fallujua, Heet and al-Qaim.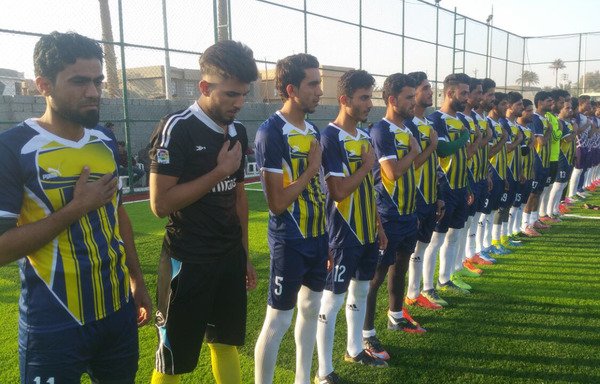 ISIS put an end to both construction and sporting activties, however, destroying 60% of the province's sports facilities during its rule, he said.
But within days of the province's liberation, engineering and technical teams in Anbar began rehabilitating stadiums, arenas and sports centres, he said.
"Sports of all kinds are one of the most important means of combating extremist ideology," said al-Dulaimi, noting that ISIS had banned all sporting activities.
Star players
"Anbar is now seeing popular sports festivals and events and championships featuring well-known teams, such as the Ramadi Soccer Club, the Fallujah Soccer Club and al-Sumoud Sports Club," al-Dulaimi said.
These include championships for neighbourhood teams to select young players who are later trained by specialised staff, he said.
"Sports facilities sustained severe damage at the hands of ISIS elements," Ramadi soccer club president Capt. Essam al-Dakhil told Diyaruna.
But after the group's ouster, Anbar youth set out to repair and rehabilitate the stadiums to clear the way for wide participation in sporting events and activities.
"Anbar has produced star players, including Hisham Mohammed, Khalid Ahmed and other key players on the Iraqi national team," al-Dakhil said.
To foster upcoming talent, "Anbar needs more support from the Ministry of Youth and Sports and the local government in Anbar to rehabilitate the rest of the stadiums, particularly the Ramadi Olympic Stadium", he added.
'Lifeblood of youth'
"The Fallujah Youth Centre now includes soccer teams and track and field teams, and has indoor futsal courts and halls setup for Taekwondo, Judo and a variety of other sports," said Fallujah Youth Centre director Hamed Shehatha.
The centre sustained heavy damage during the ISIS era, he told Diyaruna, but thanks to government efforts and the support of service departments, most of it has been rehabilitated and is back in service.
"The centre is currently hosting cultural and arts events featuring painting and singing groups," Shehatha said.
"Five sports championships were held in the past two months," he added. "The local neighbourhood teams were given uniforms and accessories and allotted sufficient time for training on the full soccer pitches and futsal courts."
"In the first days after the liberation of Anbar, in early 2016, sports activity resumed in force because sports is the lifeblood of the youth in all districts and localities," said Capt. Hilal Badr, who oversees the stadium in Haditha.
Most of the fields used by local teams are seeing soccer matches on a daily basis, he told Diyaruna, and tournaments are being held between residential neighborhoods and Anbar cities.
"There are teams in a variety of sports, including judo, track and field and bodybuilding, which have become popular among the youth," Badr said.
Along with regular training, there are many new events, such as tournaments between popular teams and army, police and emergency response teams, said Ali Abbas al-Mohammadi, a player with the Ramadi club.
These serve to "strengthen the bonds between citizens and security agencies", he told Diyaruna.