"Islamic State of Iraq and Syria" (ISIS) elements blew up the Anbar Olympic Stadium in Ramadi in July 2015, collapsing the massive stadium and leaving rubble in its footprint.
But now that ISIS has been ousted from Anbar and basic infrastructure it destroyed has been repaired, a plan to reconstruct the stadium, along with other sporting facilities in the province, is being implemented, officials said.
The stadium had not yet been fully completed when ISIS overran the province in the summer of 2014, bringing construction to a halt. Then the group destroyed it.
"The stadium was a large project, which we had almost completed, but ISIS bombed it in 2015," Ramadi mayor Ibrahim al-Janabi told Diyaruna.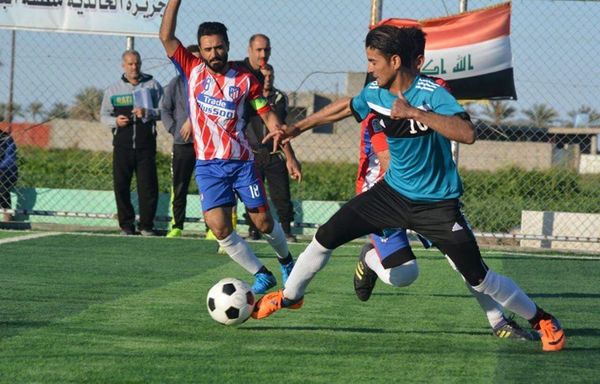 "After we took back control of the city, we focused on a series of basic infrastructure projects to provide the bare necessities, so displaced families could return to their homes and lead a normal life," he said.
Now, he said, "in light of the recovery our province has witnessed and the enhanced security, it has become necessary for us to restart stalled construction projects that are crucial for leading a normal life".
The city is working with the Iraqi Ministry of Youth and Sports to rebuild the Anbar Olympic Stadium, he said, noting that crews have started to remove the debris in preparation for reconstruction work to begin.
Developing the sports sector
"The stadium is considered to be a comprehensive sports village, as it includes a hotel, two secondary training courts, a track and field space and other service facilities," al-Janabi said.
"When it is completed, it will represent a major urban landmark and will be a suitable arena for local and international football championships," he added.
The stadium, situated in the Kilo-7 area of western Ramadi, can accommodate up to 30,000 spectators, Anbar Youth and Sports Directorate official Imad al-Mashadani told Diyaruna.
Construction is expected to last 2.5 years, at an estimated cost of 112 billion Iraqi dinars ($94 million), he said.
Rebuilding the stadium represents "the efforts of the Ministry of Youth, the Anbar government and other local authorities to develop the sporting sector after years of neglect and absence of sporting events due to terrorism", he said.
"We have taken it upon ourselves to resume all delayed construction projects and implement ambitious plans to develop the sports sector and to focus on young people and their aspirations," he said.
To this end, "we are seeking to build 10 main stadiums for a variety of sports, other than football, and we plan on building them in several districts in the province", al-Mashadani said.
The Anbar Youth and Sports Directorate on March 9th laid the foundation for a football stadium in the eastern district of al-Karma, which is the first of its kind in that area and is expected to accommodate 5,000 spectators.
'With freedom and without fear'
Anbar can point to a number of accomplishments in terms of rehabilitating and reconstructing infrastructure damaged by ISIS and in the battles to oust the group, former provincial council member Eid Ammash told Diyaruna.
"We have commenced projects in the health, education, municipalities and public services sectors, and it is now time to focus our lens on sports and support young talent," he said.
"ISIS tried to attract young people, deceive them with extremist ideas and ban them from practicing their sports and other hobbies, under the pretext that these were prohibited by religion," Ammash said.
"After the group was ousted and normalcy returned to our cities, our youths have started to take up the activities they love, with freedom and without fear," he said.
"Today, we have to support these activities and contribute towards meeting the needs and interests of young people, so they do not deviate and fall under the influence of terrorists," he said.
Ramadi resident Luay Mahmoud told Diyaruna he spends most of his free time watching football -- an activity that would have been impossible under ISIS.
The reconstruction of the stadium in Ramadi is a positive step, he said, adding that he would be happy to see Iraqi league matches and international championships held in his city.