More than two dozen civilians in the Eastern Ghouta town of Hamouriya -- most of them children and women -- suffered breathing difficulties following a Syrian regime strike late Monday (March 5th), local activists told Diyaruna.
This is believed to have been caused by the inhalation of toxic gases that were released during the regime bombardment, which struck a civilian bomb shelter where women and children had sought refuge.
The town of Hamouriya has come under heavy assault from ground artillery, warplanes and helicopters that killed at least 30 people and wounded dozens more, Hamouriya media office activist Hossam Zain told Diyaruna.
After army helicopters dropped explosive barrels on the town at around midnight Monday, residents, Syrian Civil Defence workers and volunteers witnessed several cases of what they described as "suffocation".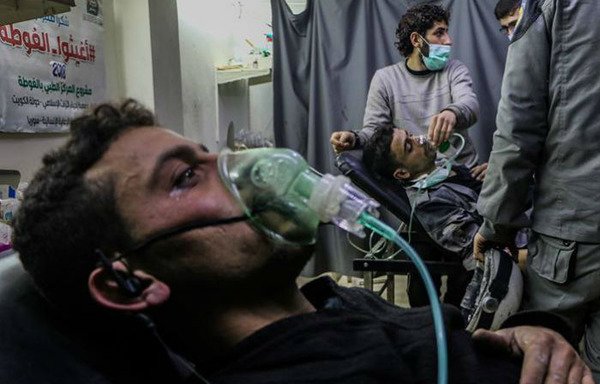 According to Syrian Civil Defence workers, the toxic substance is chlorine, as the symptoms of exposure include shortness of breath and redness of the skin.
In total, 30 cases of breathing difficulties have been documented, Zain said, among them 15 children, 13 women and civil defence volunteers who were afflicted while transporting the injured.
Regime forces first targeted the shelter with regular explosive barrels, and soon after with what is believed to be chlorine, he said, with the second strike coming as rescuers responded and people left the shelter out of fear it would collapse.
The town has come under assault from explosive barrels, thermobaric weapons and cluster bombs, Zain said.
"Medical services inside the town have come to a standstill, and first aid is being administered in nearby areas such as Zamalka," he said, "though transportation is fraught with danger due to the intensity of the airstrikes and shelling."
'Apocalypse'
UN human rights chief Zeid Raad al-Hussein on Wednesday accused the Syrian regime of orchestrating an "apocalypse" that will strike elsewhere, AFP reported.
In his annual report to the UN Human Rights Council, al-Hussein said the regime's actions in Eastern Ghouta were "legally and morally unsustainable", warning the next nightmare for Syrian civilians would inevitably arrive soon.
"This month, it is Eastern Ghouta which is, in the words of the Secretary General, hell on earth; next month or the month after, it will be somewhere else where people face an apocalypse – an apocalypse intended, planned and executed by individuals within the government, apparently with the full backing of some of their foreign supporters," Zeid told the council.
"It is urgent to reverse this catastrophic course, and to refer Syria to the International Criminal Court," he added.
The Syrian regime and allied militias launched an offensive on February 18th to retake Eastern Ghouta, the last opposition-held region near Damascus.
They have since recaptured more than 40% of the area with support from a devastating bombing campaign that has killed more than 800 civilians.
By Wednesday, regime troops were at the edges of several key towns, including Misraba, Beit Sawa, Jisreen and Hamouriya.
At least 700 more pro-regime fighters have been deployed from Aleppo to Eastern Ghouta, the Syrian Observatory for Human Rights said Wednesday.
The reinforcements were deployed to two main battlefronts on the western side of the enclave, including the town of Harasta.