More than 100 Syrian civilians suffered breathing difficulties following heavy shelling Wednesday (March 7th) in Eastern Ghouta, activists and doctors said.
Medical centres in the region received a new intake of patients with these symptoms following the regime's bombardment of the towns of Hammouriya and Saqba, said Dr. Hanan Ibrahim, a doctor working in Eastern Ghouta.
Their symptoms indicate "a very strong possibility" that regime forces used toxic gases in their heavy Wednesday bombardment, she told Diyaruna.
This is the highest instance of breathing difficulties recorded since the regime's latest offensive began, Ibrahim said, as the targeted area is densely populated and a large number of missiles were dropped on the area.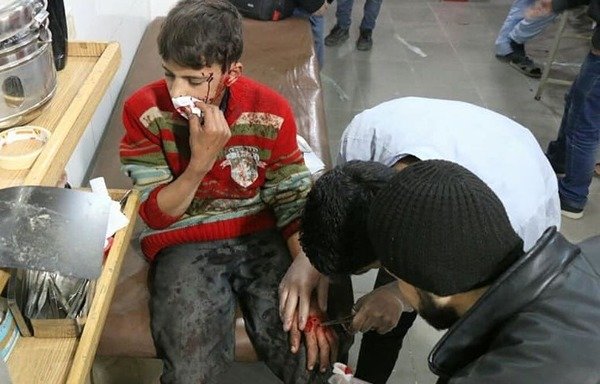 The polluted air entered the shelters and hideouts, forcing residents into the open for fear of dying of suffocation, she said.
The Syrian American Medical Society (SAMS), which supports hospitals in Eastern Ghouta, said the victims were suffering from shortness of breath, wheezing and redness of the eyes, AFP reported.
Second such attack in a week
This is the second time this week that breathing difficulties have been reported, Eastern Ghouta activist Mohammed al-Beik told Diyaruna.
The town of Hammouriya was heavily bombarded late Monday (March 5th), with at least 30 civilians suffering breathing difficulties in its aftermath.
The Wednesday night bombardment of Hammouriya and Saqba was the most severe, however, as it targeted residential areas and left at least 70 people dead and dozens others wounded, according to preliminary figures, al-Beik said.
The toll may rise "as some may be under the rubble, and it is difficult to reach them because of the heavy bombardment which severely restricts the actions and impedes the movement of civil defence teams", he said.
"Regime forces and allied militias have been using unmanned aircraft to launch airstrikes on villages and towns in Eastern Ghouta," he noted, "which fly at low altitude and target shelters and hideouts in particular."
'Missiles containing chlorine'
Dr. Raphael Pitti of the Union of Medical Care and Relief Organisations (UOSSM) said it was very likely the use of toxic gases had killed people in Eastern Ghouta.
"The fighting was very violent [Wednesday] evening," the French anesthesiologist and former military doctor told AFP.
"I have been informed that missiles containing chlorine were fired, as well as major and sustained artillery fire and bombardments with napalm and phosphorous," he said.
"To our knowledge, 124 people suffered breathing problems in Saqba and Hammouriya and more than 100 civilians were killed by bombs," he said.
"Most of the time, those most seriously injured die at the scene within an hour. They do not make it to hospital. They die of oxygen deprivation," he said. "But no one takes stock of the dead; they are buried immediately. Nobody does an autopsy to determine what killed them."
Serious medical effects
The medical effects of a chlorine attack include lesions -- like burns -- to the lung tissue, Pitti explained.
"The chlorine also damages the mucous membrane and so there will be an immediate burning sensation, a burning in the airways which will shrink the diameter of the bronchial tubes," he added.
"This makes it difficult to breathe, like you are having an asthma attack."
"For those who are lightly injured, the only thing you can do is send them home, because the doctors do not have bottled oxygen," he said. "They can give out inhalers which will make it easier to breathe eventually."
There also is a trend towards using steroids like cortisone, but these will certainly not reduce the burning sensation, he said, and could even make it easier for the airways to become infected.
"Unfortunately, they are making do with what they have," he added. "For the most serious injuries, you have to put them to sleep, intubate them, put them on a respirator. You need access to intensive care facilities."