Economy
|
2017-11-16
Iraq to restart operations at northern oil fields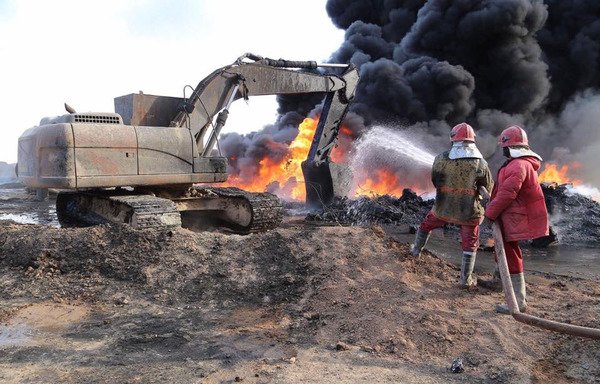 The Iraqi government is working to restart operations at oil fields in northern areas liberated from the "Islamic State of Iraq and Syria" (ISIS), and has announced it will use some of the revenues to finance reconstruction.
In late 2014, ISIS captured oil fields that were under development, notably al-Qayyarah and al-Najma fields in Ninawa and the Allas and Ajil fields east of Tikrit.
The group made millions of dollars from its theft and smuggling of oil.
At the peak of its power, ISIS had control of enormous oil output, as about one third of Iraq's oil reserves are located in northern Iraq, said Sadiq al-Bahadli, a professor of finance and banking at al-Mustansiriya University.
"In addition to these wells, militants also controlled the Baiji refinery, whose oil derivatives production capacity is 15 million tonnes per year," he told Diyaruna.
The return of these oil fields to state hands is one of the key gains of the war on ISIS, he said, noting they "could yield enormous revenue if they are rehabilitated and operated according to a practical and carefully devised plan".
"The combined production of these fields could reach about one million barrels per day, which means an increase in the amount of exported oil and the generation of additional revenues," he added.
Revenue could bridge fiscal deficit
This increase in revenue could be invested in bridging the fiscal deficit caused by the drop in Iraqi oil sales and deterioration in crude oil prices on world markets, al-Bahadli said.
It could also help bridge the gap caused by government spending over the past three years to fund the war on ISIS, he added, noting that this spending accounts for roughly a quarter of the state budget at present.
Iraqi Oil Minister Jabbar Ali al-Luaibi on October 3rd announced he had ordered the development of an urgent plan to rehabilitate Ninawa province's oil fields.
He said he had instructed the North Oil Company and Ninawa Oil Field Authority to "develop an urgent plan to rehabilitate and increase production in the Ninawa oil fields to more than 30,000 barrels per day over the next few months".
The goal is to cover the energy needs of the province and liberated cities.
Al-Luaibi directed that "all the material and technical resources be brought to bear to ensure the success of the ministry's efforts to rehabilitate oil installations and fields in the provinces of Ninawa, Salaheddine and Kirkuk".
Oil funds to fuel reconstruction
"The restart of operations in the oil sector in the liberated areas will generate revenues that can be used to support reconstruction efforts there," said Ministry of Planning spokesman Abdul-Zahra al-Hindawi.
"After liberating most of our land from the grip of terrorism, the government is moving today to maintain and rehabilitate oil export projects and pipelines," he told Diyaruna.
This will enhance the government's ability to meet the challenges of reconstruction and development in all the cities liberated from ISIS, he said.
According to Ministry of Planning estimates, the cities require at least $100 billion to fund reconstruction efforts.
Al-Hindawi said the government is making efforts to find additional sources of revenue, besides oil, to reconstruct areas devastated by the battles with ISIS.
Iraqi MP Zaher al-Abbadi, who serves on the parliamentary committee on Oil and Energy, emphasised the need to diversify the state's non-oil revenues and use them towards reconstruction.
"It is important to work on revitalising all production sectors such as tourism, agriculture and industry," he told Diyaruna.
"We have enormous resources and capabilities besides oil," he said, stressing that these "should be used well to rebuild the infrastructure destroyed by ISIS".
0 COMMENT(S)