The Iraqi Ministry of Oil in late May reopened al-Kasak oil refinery near the Ninawa province town of Tal Afar, Iraqi officials told Diyaruna.
The refinery suffered extensive damage at the hands of the "Islamic State of Iraq and Syria" (ISIS) before Iraqi forces regained control of it last August 22nd.
Reconstruction efforts began October 1st, after the damage had been assessed and a work plan had been developed, said al-Kasak rehabilitation work director Mohammed Hakim.
"We managed to bring the refinery back into production in record time, after rehabilitating the main production unit, which has a production capacity of 10,000 barrels per day of refined oil," he told Diyaruna.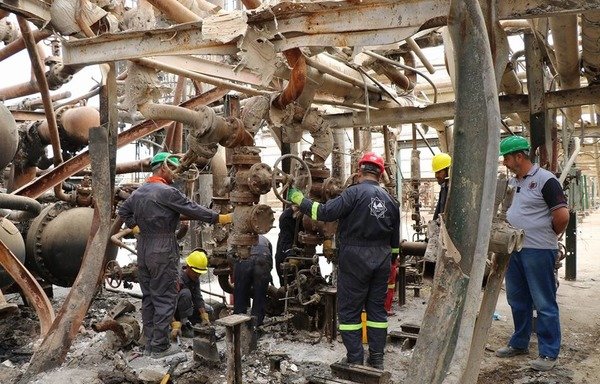 The refinery currently produces 500 cubic meters of crude oil per day, Hakim said, all of which goes to cover the fuel needs of a cement factory in Badush.
The refinery is working to increase production rates, he said, and plans to introduce a second production unit before the end of the year with a capacity of 10,000 barrels per day.
There is also a plan to raise the production capacity of the refinery within the next two years by adding new production units, he said.
"With our current production rates, we are able to meet half the needs of our province," he said, adding that the refinery should be able to fully meet local demand and even produce a surplus after rehabilitation and development.
Rehabilitation is a full-time job
At present, Hakim said, 350 engineers and technicians are taking part in the rehabilitation efforts and are working full time at al-Kasak refinery.
The effort to bring the refinery back into production also has created temporary jobs for more than 100 workers, he added.
Since September, the Ministry of Oil has brought three additional oil refineries back into production that had been damaged as a result of the ISIS incursion.
These are Ninawa's al-Qayyarah refinery, which currently produces asphalt; al-Siniyah refinery in Salahedinne, which has an initial production capacity of 20,000 barrels per day; and Haditha refinery in Anbar, which currently produces 10,000 barrels per day of refined oil.
Rehabilitation work is ongoing at al-Sumood -- the largest refinery complex in Iraq -- which was previously known as Beiji refinery, Hakim said.
This refinery "used to cover demand of petrol and kerosene for the entire northern provinces", he said, adding that production is expected to recommence in early 2019, with an initial output of 70,000 barrels per day.
Investment in the oil sector
Al-Kasak was one of several refineries that were included in investment plans prior to the ISIS incursion of 2014, Ninawa provincial council member Ali Khudair told Diyaruna.
These plans came to a halt under ISIS, he said, noting that significant damage has affected several of those facilities.
Rehabilitating al-Kasak is "undeniably a positive step", he said, pointing out that restoring production means meeting partial demand for oil products in Ninawa.
He called for support for investment efforts in the oil sector focused on oil fields in Ninawa, particularly al-Qayyarah, and for the development of refineries with the goal of increasing production.
Oil industry expert Hisham al-Shamaa also noted the benefit of investment to rehabilitate and develop oil refineries damaged by ISIS.
"For a refinery to be economically viable, it has to have a production capacity of no less than 50 or 100,000 barrels a day of refined oil," he told Diyaruna.
"We have to double our efforts to reach high levels of production at high quality that meets demand," he added.