Foreign companies have been resuming their work in the Iraqi oil sector in areas liberated from the "Islamic State of Iraq and Syria" (ISIS), Iraqi officials said.
In early February, the Angolan company Sonangol Group resumed oil production development work in two key oilfields south of Mosul, Iraqi Ministry of Oil spokesman Assem Jihad told Diyaruna.
The company had won a contract in 2009 to increase production in al-Qayyarah and Najma oilfields, he said, "but work was suspended after ISIS fighters overran Mosul in mid-2014".
While ISIS was in control of those areas and during the battles to oust the group, its fighters sabotaged both fields and set fire to several oil wells, he said.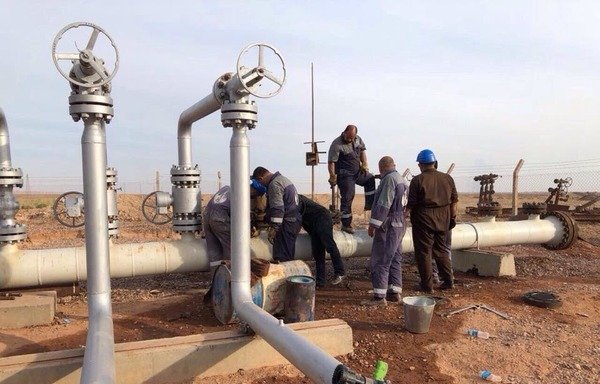 After the Iraqi forces regained control of the oilfields, employees of the state-owned North Oil Company managed to put out all the fires and rehabilitate the facilities, Jihad said.
At other Iraqi oil fields, meanwhile, "bilateral negotiations with other foreign [energy] companies are at advanced stages and are promising", he said.
"We are hopeful that the Korea Gas Corporation (Kogas) will commence development at Akkas gas field in al-Qaim, western Anbar province," Jihad said.
Akkas is considered the largest gas field in Iraq, with an estimated 5.3 trillion cubic feet of natural gas reserves. Iraq signed an agreement with Kogas in 2011 to develop the field.
Efforts to secure operations
Jihad emphasised the government's ongoing efforts to attract foreign companies and secure operations at Iraqi oilfields and facilities.
"The oil and gas fields in the liberated areas are properly secured by the energy police force there," he said, adding that military units also are deployed in these areas for increased protection.
"Our staff are working hard to repair the damaged wells, production and transport lines, refineries and storage facilities," he said, adding that fields and refineries in Ninawa, Salaheddine, Kirkuk and Anbar provinces are back online.
Last May, the Iraqi government signed a contract with British Petroleum (BP) for oil production in Kirkuk.
Through the agreement, Iraq hopes to overcome the obstacles and security challenges that have detrimentally affected the production capacity of Kirkuk oilfields such as Bay Hassan and Jambour, said oil expert Hamza al-Jawahiri.
BP has designed programmes that aim at "increasing the production ceiling of these fields from around 400,000 barrels per day to 750,000 or even one million barrels per day", he told Diyaruna.
As part of the agreement, the company is conducting technical and geological surveys and putting in place technical treatments to address low production issues, he said, as well as finding ways to use the gas produced as a by-product.
"The government is working towards reconstruction of the entire infrastructure of the oil sector that was affected by terrorism and war," al-Jawahiri said.
Reassuring foreign investors
Economist Salama Smeisim stressed the importance of putting in place sufficient protection measures to reassure and encourage oil companies to return to their development projects in liberated areas.
"The working environment in the liberated oilfields is still somewhat concerning due to terrorist threats," she told Diyaruna.
"We need to foster a highly controlled security climate that not only reassures companies that have left but also those that are interested in investing," she said.
Provinces liberated from ISIS are in "dire need of comprehensive development and resource management of oil revenues in a way that achieves development goals", Smeisim said.