As the Syrian Democratic Forces (SDF) fought to oust the "Islamic State of Iraq and Syria" (ISIS) from its last hideouts in Syria's al-Raqa, a city council-in-exile was already working to bring life back to its devastated home town.
From a buzzing headquarters in Ain Issa, 50 kilometres north of al-Raqa, Syrian engineers and lawyers are setting priorities for rebuilding their battle-scarred city.
"We know every inch of al-Raqa," said 27-year-old Mohammad Hassan, an engineer and member of the al-Raqa Civil Council (RCC).
He laid out a map of the city, pointing out a pair of water pumping stations requiring restoration and major thoroughfares that will need to be cleared of rubble.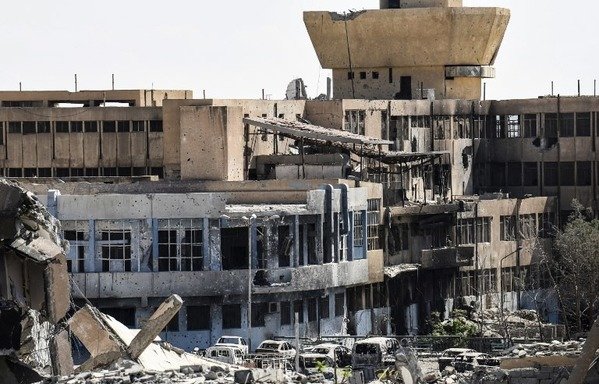 "We will start on the outside and work our way in," Hassan said energetically.
The SDF on Tuesday (October 17th) announced they have fully recaptured al-Raqa from ISIS, but much of the city has been reduced to ruins by heavy bombardment that has rendered whole streets unrecognisable.
Almost like a symbol of the RCC's eagerness to get to work, bulldozers for removing debris are parked outside its humble two-storey office building.
Founded six months ago by the SDF, the Kurdish-Arab alliance fighting for al-Raqa, the RCC boasts more than 100 volunteers from the city and its outskirts.
Men and women of various ages, ethnicities, religious sects, and professional backgrounds, are divided into 14 committees working on everything from re-opening schools to restoring water and electricity supplies and repairing hospitals and homes.
First, the mines
The first priority, said the head of the council's reconstruction committee, is removing a sea of explosive devices the extremists have left in al-Raqa's streets, public institutions, and even private homes.
"This is a huge challenge -- we cannot do anything else before getting rid of the mines," Ibrahim al-Hassan, a silver-haired engineer with thick-rimmed glasses, told AFP as he sat in his sparse office.
"The second phase is restoring the water and electricity networks. After all that, we can turn to the schools. These are the essential priorities."
Hassan said most building material would likely be imported from the neighbouring Kurdish region of Iraq, although he did not rule out supplies coming in from Syrian government-held areas in Aleppo or Damascus.
The bulldozers parked outside, Hassan said, were the first of a total of 56 machines the council is set to receive in the coming weeks as part of a grant from the US State Department.
Both the American government and the US-led coalition backing the offensive to recapture al-Raqa are involved in "short-term, quick impact projects" to bring al-Raqa back to life, said a US official involved in civilian operations in Syria.
They would include supporting de-mining operations in and around critical buildings like schools and hospitals, and providing food and health support once al-Raqa is recaptured.
'A lot of pain'
The European Union has also pledged some $3.5 million to fund de-mining projects, said RCC member Abdullah Arian, a lawyer from al-Raqa who visited Rome last month with other council members to solicit international funds.
But RCC members say they cannot yet set a price tag for rebuilding al-Raqa because they have yet to enter the city itself.
Arian and his six children, who were smuggled out of the ISIS-held city around 15 months ago, are waiting to see what is left of their home.
"Al-Raqa will not be the same city that I left five years ago. There has been a lot of pain," says engineer Laila Mustafa, the RCC's co-chair.
She also urged the international community to shoulder the responsibility for rebuilding her home town.