As a public safety measure, al-Raqa Civil Council is working to clear mines and unexploded ordnance from areas of the province that have been liberated from the "Islamic State of Iraq and Syria" (ISIS).
The work is being conducted in co-operation with the Syrian Democratic Forces (SDF) and specialised mine removal teams from various organisations, said Mustapha Ceylan, a member of a de-mining team affiliated with the Kurdish People's Protection Units (YPG).
These include the Roj Mine Control Organisation (RMCO) and SDF and Asayesh mine removal teams, he told Diyaruna, adding that his team has been tasked with clearing mines in northern al-Raqa.
"Al-Raqa Civil Council, in co-operation with these parties, is working to raise awareness about the dangers of mines and how best to deal with them," he said, in addition to working to clear them from all areas.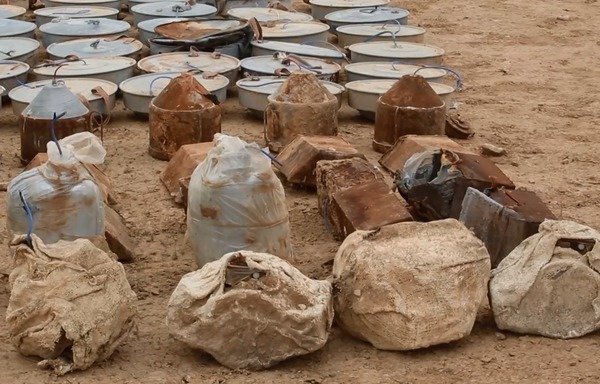 Over the course of a year, he said, more than 15,000 mines have been removed from an area extending from al-Hawl, Manbij, rural al-Raqa and rural Deir Ezzor.
Reporting mechanism
In addition to clearing targeted areas, the teams respond on a daily basis to local residents, who report finding objects they suspect to be mines or explosive remnants of war near their homes or even inside them.
The council has set up a Telegram account (@Atlas03) devoted for reporting suspicious objects and mines, Ceylan said.
The app allows for the upload of a photo of the suspicious object along with its GPS location, he explained. After receiving the report, the nearest security team cordons off the area until the demining teams arrive on the scene and deal with the object.
In some areas of rural al-Raqa where communications are hampered by a weak cell phone signal and internet connection, however, this reporting method does not always work.
"Residents then resort to using traditional means [of reporting], by sending someone to the nearest security post to report the suspicious object," he said.
Mines and unexploded ordnance are gathered in a remote area and blown up.
Awareness campaigns are conducted on a continuous basis in co-operation with al-Raqa Civil Council to educate civilians about the danger of mines and what to do to safeguard their lives in the event that a mine is found, Ceylan said.
"Leaflets are distributed to residents who attend the awareness sessions, and a number of specialists provide psychological and moral support to those injured by the mines," he said.
"Security forces and concerned organisations in the liberated areas are constantly co-ordinating with the civil council to secure the areas from which [ISIS] has withdrawn and clear them of mines and explosive remnants of war," said Saleh Uthman, a resident of northern rural al-Raqa.
This is being done to safeguard the lives of civilians, he told Diyaruna.
"They are not allowed to return to their towns or villages until it is ascertained that the threat of mines has been removed," he said.
Danger to civilians
ISIS left no area without planting mines in it at random before it withdrew from it, Uthman said.
Mines are strewn in agricultural fields, along primary and secondary roads and in houses and residential areas, he said, which makes traveling in many areas fraught with extreme danger.
Most injuries are sustained by civilians, farmers and shepherds, he added.
"The biggest threat in the region is posed by the mines left behind by ISIS, which have claimed numerous lives and caused many residents to lose limbs," said al-Raqa Civil Council health committee chairman Saddam al-Huwaidi.
The council is working to ensure the areas it administers are free of mines, he said, noting that the heavily populated areas it serves are now completely clear of mines and explosive remnants of war.
"Civilians are warned not to wander in areas that have not been declared clear and to stick to roads used by the SDF," he told Diyaruna.
They are advised to stay away from suspicious objects, and to quickly report these objects to the Asayesh, who will cordon off the area and call in mine removal experts to deal with the situation, he said.