The wheel of life is turning once again in the Syrian city of al-Raqa, just a few months after its liberation from the "Islamic State of Iraq and Syria" (ISIS).
The basic necessities of life are available, local residents and officials said, and work is ongoing to complete the removal of mines and rubble and continue with the reconstruction efforts.
With the exception of the support provided by the international coalition, there has been no international support for al-Raqa's restoration, civil council health committee member Saddam al-Huwaidi told Diyaruna.
Most ambulances, as well as the trucks and bulldozers and machinery used for clearing the rubble, have been provided by the coalition, and are being operated on a continuous basis, he said.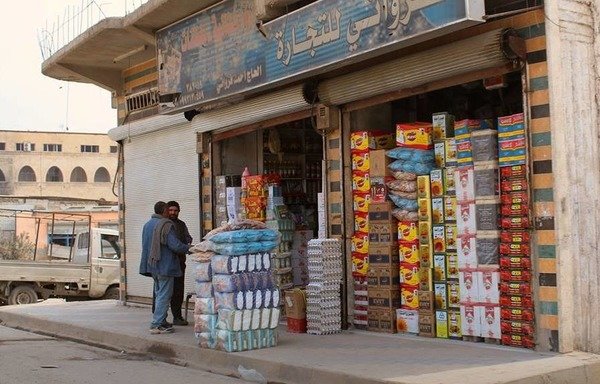 The city's obstetrics hospital has returned to service and has been expanded to include pediatric services, and al-Mashhadani general hospital also has reopened to patients, he said.
The municipality has established a general control committee to regulate prices and stop fraud and transgression against private and public property, he added.
Reconstruction under way
"Full reconstruction will require a massive amount of money and international funding, so for now it is limited to what the residents can do on their own," reconstruction committee chairman Abdullah al-Erian told Diyaruna.
The reconstruction committee is removing rubble, mines and corpses from the streets, he said, while residents handle the task of rebuilding and repairing their homes and shops.
The repair and restoration of al-Kasrat pumping station and treatment plant means water has been reaching al-Raqa and its surrounding areas, al-Raqa Water Treatment Plant head Abdo Abdul-Qader told Diyaruna.
Work is under way to repair the damaged network, he said, adding that of two main pipes needing to be replaced, one has been replaced and work to replace the other is ongoing.
Work also is ongoing in al-Raqa to remove mines, improvised explosive devices (IEDs) and explosive remnants of war, said Mustafa Ceylan, who serves on a Syrian Democratic Forces (SDF) engineering team.
This work is being carried out by specialised SDF teams and international humanitarian organisations specialised in mine removal, he told Diyaruna.
"Mine removal work first began on main roads and public utilities such as the power and water plants and hospitals, then moved to residential areas," he said.
"The work is proceeding according to a schedule set after the city was divided into quadrants, which are being cleaned up in succession," he added.
Restoring life to the city
Ceylan estimated that 2,000 out of an estimated 12,000 planted mines have been dismantled, noting that thousands of mines and IEDs have been found in warehouses left behind by ISIS.
Two factories where mines and explosives had been manufactured have been discovered, he said, on Tel Abyad and al-Amasi streets.
A rapid response team also has been formed to extract corpses from under the rubble, he said, which has so far pulled out "more than 70 bodies" and is currently working in co-ordination with mine removal teams.
The basic necessities of life are once again available, said reconstruction committee supervisor Maizar al-Ahmad.
Flour was secured for the city's bakeries by building a new mill and storage warehouse that now enables bakeries to sell bread at around 100 Syrian pounds ($0.19), he told Diyaruna.
The slaughterhouse has been rehabilitated, he said, "as livestock breeding and the sale of meat are two of the most important business activities in the region".
Restoring the social aspect of city life also has been a focus of attention, he added, through activities such as rehabilitating football fields, holding football matches and cleaning up the museum.