Al-Tabqa Civil Council has been working to secure basic necessities for residents of the city and its internally displaced population, despite a scarcity of resources and a shortfall in assistance from international aid organisations.
To this end, it has been administering the distribution of aid and ensuring it reaches as many of the intended beneficiaries as possible.
"On the humanitarian level, the problem the council is facing is the massive number of internally displaced persons (IDPs)," said council deputy of the co-presidency Khalil Uweis.
There are about 25,000 IDPs in the area at present, most of whom were displaced from al-Raqa province and regime-controlled areas, including rural Aleppo, Palmyra and Deir Ezzor, he told Diyaruna.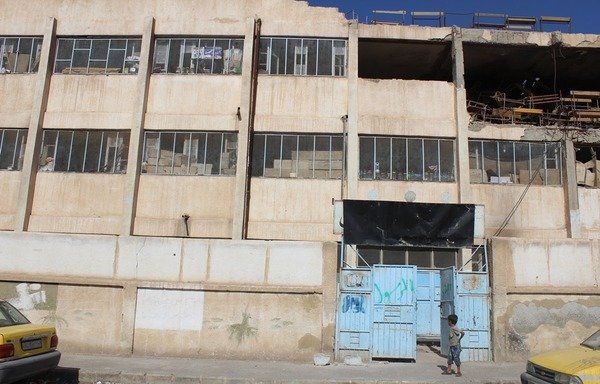 This brings the total population of al-Tabqa and its vicinity to 45,000, he said.
"Most of them have no shelter, and some live in schools and government buildings," he added. "The council, with help from volunteers, is providing bread, water and hot meals on a daily basis to IDPs and needy residents alike."
An appeal issued to the international community and humanitarian organisations on behalf of the IDPs drew a modest response, Uwais said.
The council has distributed this aid equally among recipients, and has been distributing food baskets to the most needy, he said. It also has been providing health services, particularly to children and the elderly.
Children's vaccines are a priority, he added, as many did not receive preventive health services while the "Islamic State of Iraq and Syria" (ISIS) was in control.
Relief kitchens
"The daily increase in the number of IDPs from al-Raqa and other areas makes it almost impossible to provide all the needed humanitarian assistance," said Azad Dudeki, who heads a Kurdish Red Crescent team operating in al-Tabqa.
Some days, there are hundreds of new arrivals, he told Diyaruna, "and international support is almost non-existent".
It therefore falls on the council alone to provide basic necessities such as tents, mattresses and blankets, and food and water, he said.
Some aid organisations are trying to address the shortfall, he noted, "but their role is limited to narrow areas, and they preferred to provide their assistance through the council, since it can distribute it fairly and in an organised manner".
The council has set up one main relief kitchen and a number of smaller ones in areas where there is the greatest concentration of IDPs, he said.
"Operating these kitchens relies on the council's efforts and donations it receives from residents and local and international aid organisations," he added.
The Kurdish Red Crescent has been co-ordinating with the civil council to secure vaccines for children and other necessary medicine, he said.
"Seven bakeries in al-Tabqa area have been put back in operation to meet the city's needs," he said, noting that more than 10,000 bundles of bread are distributed free of charge every day.
The flour and fuel bakeries need to operate are being supplied by the council.
Social solidarity
Al-Tabqa Civil Council has distributed tents, mattresses and blankets to the displaced population, but there are not enough to accommodate all those in need, Dudeki said.
"The council housed the IDPs in vacant houses in the region and some schools that will not be open this school year," he said.
Al-Raqa native Fathi al-Salloum told Diyaruna he fled to al-Tabqa city about a month ago with his wife, mother and four children.
He said he was fortunate to have been able to escape on his tractor, which he loaded with blankets, mattresses and other provisions, and has settled into a building that is under construction with the help of relatives in al-Tabqa.
"Al-Tabqa Civil Council did not leave us without any help," he said. "On the contrary, it is providing us with food aid to the best of its ability and fresh bread every day free of charge."
"There is a sense of social solidarity in the area, between residents and IDPs and among the displaced population," he said. "Everyone is aware of the seriousness of this stage and the need to persevere with minimal resources."
The priority is to feed children and obtain medical care for them and for the elderly, he said.
Many organisations are working to meet the daily needs of the population under the auspices of the council and through the offices of the Kurdish Red Crescent, he said, despite the dearth of available resources.