The Syrian regime continued to torture and kill inmates in its prisons and detention centres in 2022, with 98 such deaths documented last year and many more that have not been recorded, according to some sources.
In November alone, the Syrian Observatory for Human Rights said it recorded the death of 12 civilians under torture in regime prisons and security centres.
According to the Syrian Network for Human Rights and an independent group of activists, however, the actual toll is probably much higher.
Torture in the regime's prisons is "well-known and widespread", Syrian activist Mohammed al-Beik told Al-Mashareq.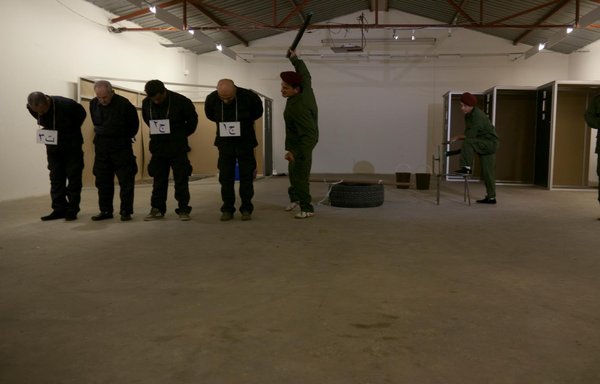 A large number of former prisoners report that they were subjected to brutal acts of torture at the hands of the regime and its intelligence branches.
Some were "subjected to long sessions of continuous torture for long hours and with various tools, most of which are internationally banned", al-Beik said.
He noted that while the Observatory's figure may seem low, "there is another figure reported by the Syrian Network for Human Rights indicating that the death toll has reached more than 60 per month since the beginning of 2022".
Missing prisoners
As al-Beik worked to shed light on the issue of current and released prisoners of the Syrian regime, he made a significant observation, he told Al-Mashareq.
He noticed, he said, that "some of the detainees whose names are included on the lists of released detainees are nowhere to be found".
Al-Beik and a number of other activists formed investigation teams to track down some of those prisoners, he said, "but none were found at all, and their families deny their return from detention".
"Some of the families did not even know that their sons were being held in detention centres," he said.
"When the families asked the detention centres about them, they were assured that they had been released on specific dates, as documented in their records," he added.
"The regime is getting rid of any evidence of death of detainees under torture, so it puts up this pretense, turning the detainee into a forcibly disappeared person, and thus absolves itself of responsibility," he said.
'Death was commonplace'
An Egyptian trader who asked that his name not be used out of sensitivity for his situation told Al-Mashareq that he spent 17 years as an inmate in Syrian prisons.
Among them was the regime's notorious Saydnaya prison, he said, as well as detention centres in Palmyra and Damascus.
"Death news was commonplace and heard every day," he said.
"Every person who was taken for investigation or so-called trials was not expected to return at all, given the heinous methods of torture used by the jailers and interrogators," he added.
He said most of those who are imprisoned for long periods are almost certainly suffering from some illness, and the regime refuses to provide the necessary treatment, which accelerates their death under torture.
The former inmate said he was released from Saydnaya prison when the Syrian uprising of 2011 was well under way.
While he was still incarcerated, he said he noticed that "the frequency of torture and beatings increased multifold and turned utterly brutal" after the uprising.
"At that time, a large number of those who had been detained for more than 10 years were released, while others and new arrivals who were accused of igniting the revolution were dealt with harshly," he added.
The corpses of detainees were seen on a daily basis dumped in the prison's corridors and outer yards, he said.
Expunging evidence
Syrian lawyer Bashir al-Bassam told Al-Mashareq that since 2011, the regime has carried out random arrests in areas that witnessed unrest and armed clashes, with no legal records kept to document the ensuing detentions.
"Since that time, the number of the forcibly disappeared began to rise from the inability of the detainees' families to prove they had been detained," he said.
"With the passage of time, however, news began leaking out from inside the detention centres, especially after relative calm prevailed in some Syrian regions and releases took place in batches in various areas," he said.
The names of the detainees started to spread by word of mouth, through the former prisoners who had been released, al-Bassam said.
In response, he said, "anyone who was killed under torture or due to lack of medical care or nutritional neglect and was known to have been detained and killed, will be announced by the regime as having died from medical causes".
This explains the high number mentioned in press and human rights reports of detainees who have died during the past months, he noted.
"Unfortunately, this pace will increase in the coming period in light of the political changes taking place between the regime and some internal and external parties," he added.
In a more accurate sense, he added, "the regime is cleaning up its records so as to avoid international criminal prosecution".