A rights group accused Syrian government forces Monday (October 31) of burning bodies inside pits in an effort to make the corpses unidentifiable -- the latest in a slew of accusations of crimes perpetrated by the Syrian regime.
"This may reflect a broader practice of the Syrian government to destroy evidence of their crimes and deny the families of their victims their right to know the fates of their loved ones or receive their remains," the Syrian Centre for Justice and Accountability said in a report.
Since the start of Syria's civil war in 2011, which began with the regime's brutal repression of mostly peaceful protesters, Syrian authorities have been accused of fatal torture of detainees, rape, sexual assaults and extrajudicial executions.
The NGO analysed videos dating back to 2012 and 2013 that showed bodies burnt and transferred into mass graves in the southern province of Daraa, and crosschecked them with satellite imagery monitoring the trucks transporting the bodies.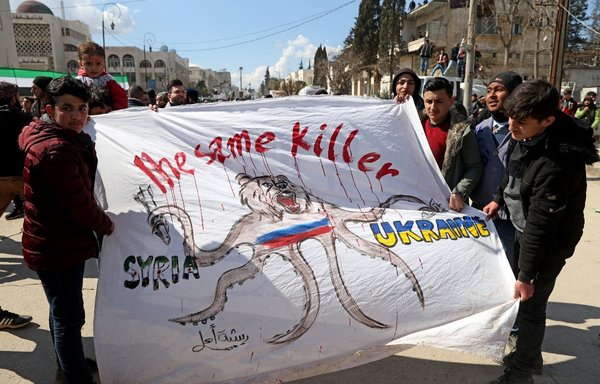 Four videos show armed men transporting at least 15 bodies. They documented their identities, dumped them in a pit, then poured gasoline and set them on fire.
In one of the video clips, an officer is seen photographing the faces of the dead before another one poured gasoline on the face and hands, before kicking a body into a pit and setting it on fire.
"This process is repeated for every single body in the exact same order, indicating the systematic nature of the practice and suggesting that this may not be the only time this group of officials has carried out such an operation," the NGO said.
Regime crimes come to light
The NGO says that the 15 bodies belong to civilians and army defectors shot dead by regime forces during a house raid in Daraa in December 2012.
The centre obtained the video clips from an activist who said that he received them from an opposition group who ambushed and killed the soldiers who burned the bodies.
Reports published in The Guardian and New Lines Magazine emerged in April, revealing that regime forces allegedly killed dozens of people in the Damascus suburb of Tadamon in 2013.
In the video, date-stamped April 16, 2013, members of the al-Mantaqa branch (Branch 227) of the Syrian regime's intelligence apparatus force blindfolded civilians in Tadamon with their hands tied to run towards a pit, in some cases jeering at them.
The runners -- who clearly do not understand what is happening to them -- are shot dead as they reach the pit, their bodies toppling onto other corpses.
Playbook of state terror
The Syrian regime's intelligence apparatus is backed and trained by Russia, learning the art of intimidation from Soviet and Stasi (East German secret police) officers in the 1960s, the Guardian report said.
Now, as war rages in Ukraine, "a playbook of state terror on civilian populations rehearsed in Syria is being redeployed by Russian forces, as Vladimir Putin's so-called special military operation turns into a brutal occupation", it said.
"Military intelligence units [in eastern Ukraine] have been at the forefront of savagery, instilling fear into communities through mass detentions and killings of the type that characterised al-Assad's brutal attempts to claw back power."
As Russian tactics honed in Syria are rolled out in Ukraine, al-Assad continues to hold power -- and enormous wealth -- in Syria, thanks to Russia and Iran.