Iran's military has been a regular presence in the Red Sea for more than a decade, with several recent incidents pointing to its activity in the strategic shipping route it uses to access its allies in Syria and proxies in Yemen.
Though Iranian maritime forces focus primarily on the Arabian Gulf and Strait of Hormuz, Iran's interest in the Red Sea is firmly established, experts said.
The Iranian regime has often suggested, via state-sponsored media outlets, that its military vessels are in the Red Sea to "escort and protect" Iranian and allied tankers from the threat of "pirates".
But statistics show that piracy in these waters, once a major threat to shipping, has decreased in recent years, due in part to concerted international efforts.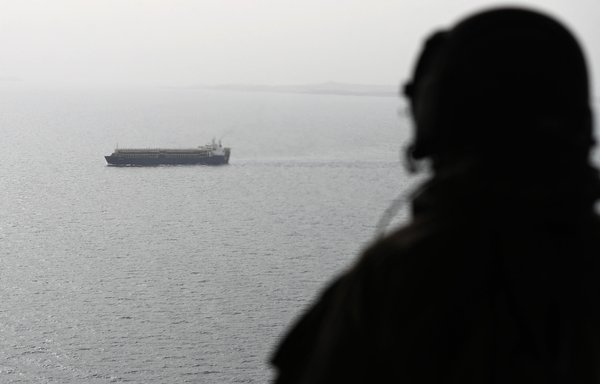 Two recent incidents show Iranian military vessels are active in the Red Sea.
Iran's Tasnim news agency reported that Iranian naval forces had on May 18 "saved a trade vessel from a pirate attack in the Red Sea".
It claimed that one of Iran's merchant ships in the Red Sea made a mayday call after coming under attack from pirates, and that Iranian navy units "tasked with escorting the trade vessels" were immediately dispatched to the zone.
After an exchange of fire, the attackers were forced to flee, it said, adding that its navy has been "safeguarding merchant containers and oil tankers owned or leased by Iran or other countries" from pirates.
Maritime intelligence firms meanwhile said the circumstances of the incident, and a similar incident in the same area a few days earlier, remained unclear.
Dryad Global, a maritime intelligence firm, told the Associated Press that the vessel had been in Djibouti before sailing close to Yemen's coast.
The vessel had not turned on its Automatic Identification System (AIS) tracker, it said, describing this as "very strange", as the Red Sea is a major international shipping route.
Iranian ships have a history of turning off their AIS to avoid detection when carrying out illicit activities such as trade in oil that violates international sanctions.
Iran also has a history of smuggling arms to the Houthis via sea, with routes known to pass through the Somali coast or Bab al-Mandeb strait, at the mouth of the Red Sea, as well as via Red Sea islands, using fishing boats.
'Piracy' as pretext for presence
In February, Iranian navy commander Shahram Irani said that "a flotilla of Iranian warships is escorting the country's trade vessels in the Red Sea and the Gulf of Aden", Tasnim reported.
Irani described these activities as "in line with international efforts against piracy", noting that since 2008, the Iranian navy has been "safeguarding merchant containers and oil tankers owned or leased by Iran or other countries".
Yet "piracy" does not explain the presence of Iranian spy ships.
In August, the Iranian spy ship Behshad replaced the Saviz, an intelligence-gathering vessel which had been patrolling the Red Sea for five years prior.
Yemen's Abaad Studies and Research Centre conducted a study in January 2019 investigating the Saviz's tasks, concluding that it played a tactical role in smuggling arms to Iran's proxies, the Houthis.
According to an April 2017 report by The Maritime Executive, Iran has regularly deployed naval forces to the Red Sea since 2011.
While it has focused on the Strait of Hormuz, "more recent efforts by Iran's naval leadership to project naval power beyond the Persian Gulf have resulted in a frequent Iranian naval presence in the Red Sea and the Gulf of Aden", the report said.
The Red Sea is "an important route for Iranian weapons smuggling" and for the global shipment of oil, it said, noting that Iran's top brass have pledged to maintain a permanent maritime presence in the region.
Even so, "Iran's ability to interdict shipping in the Red Sea is limited by its aging surface fleet and by the small number of submarines and missiles it can deploy to the waterway", The Maritime Executive said.
"In spite of these limitations, the Iranians do have a narrow range of capabilities in the Bab al-Mandeb", it said, which they may use to disrupt shipping or "open a new theatre of operations in the event of a war with [Iran's] regional rivals".
International security efforts
The 34-nation Combined Maritime Forces (CMF), which has played a critical role in ensuring freedom of navigation in the region's waters, in April launched a new task force to patrol the Red Sea and the Gulf of Aden.
Combined Task Force 153 (CTF 153) joins three existing CMF task forces (CTF 150, CTF 151 and CTF 152), which focus on maritime security, counter piracy and Gulf maritime security, respectively.
Piracy used to be a major concern in the Red Sea, Dryad Global said in a May 16 report, while arms and drug smuggling and human trafficking remain an issue.
"Today, the Houthi threat is the most urgent security risk," it said.
"Since 2016, Houthi forces have harassed, attacked and seized multiple vessels. Their earlier methods, such as rocket-propelled grenades, were not very advanced, but their tactics have become more effective and dangerous."
"The Houthis have used mines, maritime drones, aerial drones and anti-ship missiles," the report said.
"They have attacked vessels from multiple countries but have especially focused on Saudi ships and ports," the report said. "Today, they pose a threat to freedom of navigation, making it a global concern."
Meanwhile, it noted, "Iran's efforts to establish a military presence have mostly failed beyond its support for the Houthis".