The European Maritime Awareness in the Strait of Hormuz (EMASOH) is continuing to de-escalate tensions and maintain safe transit in the key waterway between the Arabian Gulf and the Gulf of Oman.
Its presence in the area since February 2020 has brought relative calm to the tense security situation there, with low military activity in September around the strait and no reported incidents, EMASOH said in its latest bulletin.
EMASOH's military component, Operation AGENOR, is comprised of security forces from Germany, Belgium, Denmark, Greece, France, Italy, the Netherlands, Portugal and Norway.
An increase in ships transiting Strait of Hormuz near the Tunb islands suggests that seamen feel less threatened, according to the bulletin.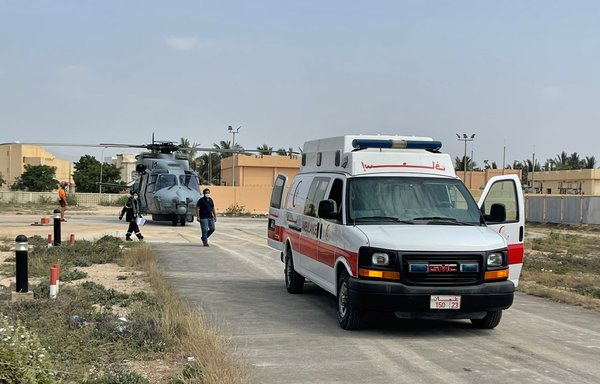 In September, Capt. Bruno Royer de Véricourt, the force commander of Operation AGENOR, conducted several visits with stakeholders and other military commanders operating in the same area.
Véricourt separately hosted Commander of US Naval Forces Central Command Vice Adm. Bradley Cooper and Cmdre. Gordon Ruddock, the commanding officer of the International Maritime Security Construct (IMSC).
He also travelled to Muscat, Oman to meet with Rear Adm. Saif bin Nasser bin Mohsen al-Rahbi, the Chief of the Royal Navy of Oman, and the director of the Maritime Security Centre (MSC).
The visit was invaluable in providing an understanding of Oman's role and importance for EMASOH, said the bulletin.
Besides the political statement and support, contributing nations provide assets and personnel to EMASOH.
Starting in October, Italy has sent the ITS Martinengo, one of its modern frigates, to the mission.
Meanwhile, in September the FS Languedoc responded to an emergency call and provided medical support before performing a helicopter-borne medical evacuation of three Indian seamen in fatal danger.
De-escalating tensions
EMASOH, which is headquartered in Abu Dhabi, celebrated its first anniversary on February 25.
At the time, seven frigates and a surveillance aircraft were part of the EMASOH operation.
"In total, these assets have conducted more than 100 flights, spent 400 days at sea, reassured over 20 merchant ships, and have crossed the Strait of Hormuz close to 100 times," EMASOH said in a statement marking the occasion.
The Gulf and the Strait of Hormuz have experienced rising insecurity and instability since 2019 as a result of growing regional tensions.
But over the last year, the situation in the Strait of Hormuz has been "relatively stable", said Danish Cmdre. Carsten Fjord Larsen, then-commander of Operation AGENOR.
"Beyond any doubt, EMASOH the mission has a positive impact!" he said.