Iran's deepening ties to Beijing and Moscow will not help the regime overcome its military shortcomings in the event of a conflict and a concentrated series of adversary air strikes, observers say.
The core problem is Iran's vulnerable air defence systems, which are a hodgepodge of different systems that lack spare parts and have major reliability and capability issues.
"Iran possesses a mix of both obsolete and modern imported SAMs [surface-to-air missiles], and modern indigenous designs. The latter benefit from multiple radars and networked launch platforms and are hardened versus countermeasures, though none are 'top-tier' by international standards," wrote the National Interest in 2021.
"Iran maintains numerous SAM systems imported from the United States and Europe half a century ago, but lacks access to spare parts and new missiles," it said.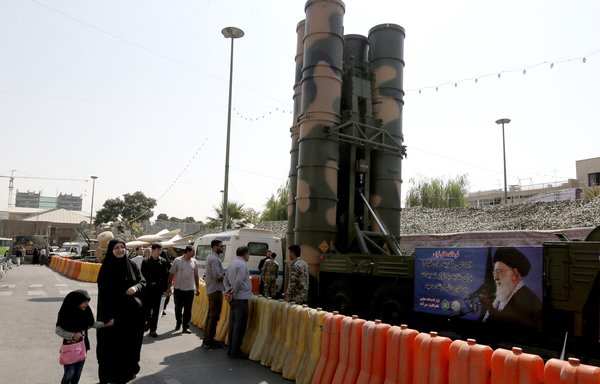 "Tehran has been able to acquire modest numbers of SAMs from China and Russia," it added.
A lot of show
Late last month, a visit by a high-profile Chinese military delegation to Iran heightened concerns over regional stability and brought to the fore the potential consequences of Iranian access to Chinese military technology.
Chinese Defence Minister Wei Fenghe said his visit was aimed at "improving the strategic defence co-operation" between Iran and China, yet nothing concrete emerged from the meeting.
Over the years Russia has also pledged to sell Iran arms and even hinted at selling Tehran the S-400 air defence system, which itself is the result of decades-long development of the S-300.
Even if Iran were to purchase the upgraded S-400 -- which has an upgraded radar and purportedly can track stealth aircraft -- Iranian forces would be unable to properly use the system, according to analysts.
"Many countries do not fully appreciate that effective air defence requires a networked system and not just one missile system component," according to commentary published on the RAND blog in May 2020.
"At a basic level, the S-400's field of view for the search and fire control radar is limited to the horizon of the earth," which means the system depends on tall masts, or optimally, airborne warning and control aircraft systems (AWACS), it noted.
Without sensors that can detect beyond horizon, the S-400 is "vulnerable to a low-altitude attack by cruise missiles, which, in large numbers, can overwhelm an air defence system", it said.
S-400 units "need to be tightly integrated with AWACS aircraft" to be effective -- an additional, expensive cost that Iran is likely unable to shoulder.
Any such deals from Russia are, regardless, on indefinite hold due to Moscow's unprovoked war in Ukraine, where Russian troops are not being properly supplied, fed or led.
A recent report detailing how Iranian weapons smuggling networks have been funnelling rocket-propelled grenades (RPGs), rocket launcher systems and anti-tank missiles sourced from Iraq to Russia to aid its assault on Ukraine underscores this point.
"Using the weapons-trafficking underworld would signal a dramatic shift in Russian strategy, as Moscow is forced to lean on Iran, its military ally in Syria, following new sanctions triggered by the invasion of Ukraine," the Guardian said.
Russia's troubles were further brought to bear when a Russian carmaker in early May asked Iran to supply it with key components it cannot access because of the sanctions.
It was a telling moment that encapsulated the consequences both regimes face as international pariah states.
S-300 failures in Iran, Ukraine and Syria
Under a 2010 deal worth $800 million, Russia began delivering S-300s to Iran in April 2016, the Diplomat reported.
Deliveries of 16 systems were completed in October the same year. Then in March 2017, Iran announced that its S-300s were operational.
However, past evidence suggests that Iran's S-300s are unlikely to be effective, especially against stealth aircraft.
Israeli F-35 stealth fighters eluded Iranian S-300s during a raid in March 2018, the National Interest reported, citing a June 2019 report by Kuwaiti daily Al-Jarida.
The Israeli aircraft "penetrated Iran's airspace, circled high above Tehran, Karajrak, Isfahan, Shiraz and Bandar Abbas -- and photographed Iran's air defence system", according to the report.
The Israeli jets had carried out the sortie as a test of the possibility of an undetected attack on Iranian outposts and bases, during which they photographed sensitive areas -- including underground bases.
Iranian leader Ali Khamenei fired Iranian air force commander Brig. Gen. Farzad Ismaili for attempting to hide the incursion, the report added.
One of the sources cited by Al-Jarida said that Iran's S-300 air defence system, including its Russian radar, did not detect the entry and exit of the fighter planes.
The Russian cruiser Moskva, flagship of the Black Sea Fleet, was equipped with S-300s, but Ukraine sank the ship anyway in April.
In Syria too, S-300s have experienced a number of notable failures in recent years.
In April 2020, the Syrian military criticised the S-300 missile defence system, saying that it is largely ineffective against Israeli air strikes, according to Avia.pro.
A Syrian military source told the Russian outlet that the radar used on the S-300 and the Pantsir-S systems has proven to be incapable of detecting and hitting Israeli cruise missiles on numerous occasions, the Middle East Monitor reported.
Iran's Islamic Revolutionary Guard Corps (IRGC) has a long history of missile failures and embarrassments, including the downing of a Ukrainian passenger plane in January 2020.
Insufficient attention to missile safety protocol, dilapidated equipment and outdated technology have contributed to this track record of failure.
"Iran's SAMs won't stop a concentrated air campaign from a power able to muster a combination of standoff-range missiles, electronic warfare and stealth aircraft," the National Interest concluded. "These have historically systematically dismantled air defence networks in Iraq, Lebanon and Libya."